Flexible Shaft Couplings
In many cases machine designers give limited thought to flexible shaft couplings. They devote their time to the more expensive components, overlooking the fact that the performance of a machine is only as good as the connections of its shafts. Reliance is fully aware of the importance of the shaft coupling and that they are often a critical part of the drive system. The Reliance range has been carefully designed and tested to provide trouble free operation over many millions of cycles.
Perfect alignment is not practical in applications where two shafts need to be joined and therefore some level of misalignment will always occur. This misalignment is usually the result of the support block manufacturing tolerances and structural alignment. Unless these tolerances are very precise use of a solid coupling will result in high shaft loading and significant bearing loads. In certain cases this misalignment is limited to angular or radial misalignments, but is more often a combination of the two.
Therefore, careful selection is important as differing configurations of coupling are designed to perform very differently dependent upon the application, and, as a consequence, have very different benefits and drawbacks.
Flexible shaft couplings offered by Reliance are ideal for torque transducers, as encoder couplings and all applications requiring rotary torsional stiffness connecting the motor drive shaft to the required system. Our engineers have many years of experience working with and specifying shaft couplings, and are very happy to offer application advice on any of our ranges, which include: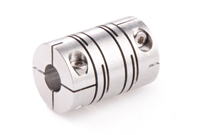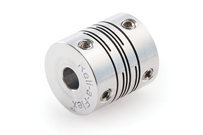 Reli-a-Flex® Shaft (Beam) Couplings
The Reli-a-Flex® range of flexible shaft couplings, also known as a beam coupling, is an aluminium alloy, one piece configuration, which has been designed in-house at Reliance to provide very smooth transmission of motion, high torsional stiffness, low bearing loads, and long life. The patented slot pattern was developed after many months of analysis and test to provide the best balance between zero backlash, torsional stiffness and low bearing load, whilst attaining an operational life in excess of 50,000,000 cycles at rated load and 80% offset. With two sets of identical slots, the Reli-a-Flex® flexible beam coupling is constant velocity by design and handles angular, parallel and axial offset. Available in sizes from 6 to 25 mm diameter and allowable speeds up to 70,000 rpm, the Reli-a-Flex® provides a very reliable one piece coupling design that approaches the performance of a bellows coupling.
Also for customers that require a modified or completely bespoke Reli-a-Flex® flexible beam coupling, Reliance has developed a unique computer-based design and performance prediction tool. This tool allows our engineers to experiment quickly with different coupling configurations and to design a coupling to meet either space envelope restrictions or performance requirements.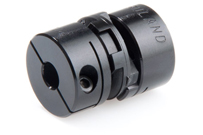 Oldham
Oldham couplings are ideal where high degrees of parallel misalignment are present, assembly access is restricted and electrical insulation is required. Their construction of aluminium alloy hubs and nylon or acetal centre blocks allows separate assembly of hubs onto shafts and then simple engagement with the centre block on assembly where shaft movement is restricted. In addition, the construction of the centre block allows the oldham coupling to act as a torque limiter or overload device.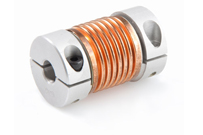 Bellows
Maintenance free zero-backlash bellows couplings are available with three construction options: for highest accuracy, nickel bellows couplings; for torque transmission, stainless steel bellows couplings; and where space is restricted, bronze bellows couplings are available down to 12 mm outer diameter. Shaft fixing options are both set screw and clamp for the stainless steel and nickel bellows options, with the brass bellows option available in clamp type only.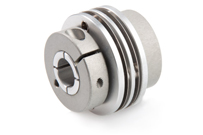 Flexible Disc Springs
A number of different options of flexible disc couplings are available, based on both single and double disc spring construction. Please note that single disc spring couplings should only be used where the misalignment between the shafts is restricted to angular and axial. Single disc spring couplings cannot be used where radial misalignments are present.
The RFSXK-2213 and 3019 type uses a novel design which places the clamps inboard of the disc springs to give the shortest possible overall length. The RFSXK-3850 type has an extended centre piece which allows high radial misalignment capability whilst maintaining good accuracy of transmission.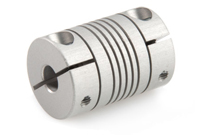 Spiral Beam
Available in stainless steel or aluminium and with a clamp or set screw style fixing, spiral beam couplings are suitable for general applications. Manufactured in one piece, spiral beam couplings are also maintenance-free.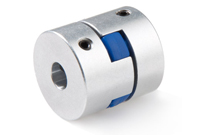 Curved Jaw
Curved jaw couplings are available with both set screw and clamp hub type fixing methods. They are an ideal solution for reducing system torque ripple with a choice of three damping elements for high, medium and low torques.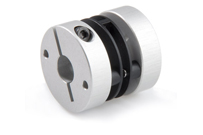 Membrane
Light duty flexible shaft couplings with an insulating fibreglass reinforced centre. Zero backlash.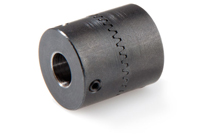 Radial Tooth
Radial tooth couplings are self centering on assembly and can be used to transmit high torques. However they must not be used where radial and axial misalignments are present and may require light lubrication depending on the application conditions.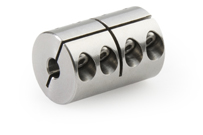 Solid
Stainless steel or aluminium solid couplings, in one or two piece construction, can be used for connecting two accurately aligned shafts. Screws are prevented from loosening during operation by  precision honed bores and Nypatch anti-vibration hardware, providing superior holding strength.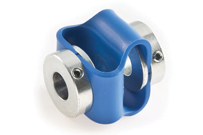 Double Loop Couplings
The Double Loop flexible shaft coupling has good resistance to petrol, oil, benzene, toluene, aromatic and non-aromatic hydrocarbons, alcohols, glycols, solvents and many other chemicals. The design offers excellent vibration absorption and compensation of radial, lateral and angular offsets. The connecting element is manufactured from a polyurethane which gives the coupling thermal and electrical insulation. For more information, please download the double loop coupling datasheet.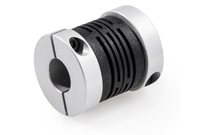 Bar Clutch
New to the catalogue coupling range is the bar clutch shaft coupling. The connecting element is manufactured from 6-6 poly-amide giving excellent damping of vibrations and shock. The aluminium hubs are anodised to protect from corrosion. This is a rotary motion transfer solution for mechanical design engineers requiring a cost effective, electrically insulated and maintenance free coupling. For more information, please download the bar clutch coupling datasheet, or contact our sales team.
Contact us for more information