Precision Gears
With over 50 years' of experience in the design, manufacture and supply of brass, ground and spur gears.
Brass Gears
With over 50 years' of experience in the design, manufacture and supply of brass, ground and spur gears.
Worms, Bevels and Internal Gears
With over 50 years' of experience in the design, manufacture and supply of worms, bevels and internal gears.
Bespoke Manufactured Gears
With over 50 years' of experience in the design, manufacture and supply of brass, ground and spur gears.
A Complete Precision Gear Range
With over 50 years of experience in the design and manufacture of precision spur gears, Reliance has developed an extensive range to suit a wide variety of customer applications.
Alongside precision cut spur gears we offer hardened and precision ground gears for applications requiring higher load capacity and a very competitive range of brass gears for applications where there is a need to balance accuracy and load capacity against cost. Typical diameters range from 5 mm to 100 mm.
Precision Cut Gears
Our precision cut gear range offers anti-backlash gears, spur gears, hubless gears and hardened gears with many hundreds of thousands of combinations of bore size, face width, material, module and number of teeth. In line with our commitment to meeting customer requirements, any tooth number that can be configured for any given gear diameter can be supplied. This allows our customers ultimate flexibility when selecting their gear ratio and the ability to use the smallest or most practical centre distance.
Gears are available in standard modules from 0.2–1.5, bore sizes from 2–25 mm and to a minimum quality class of AQ10 (for definition of AQ10 see page T4-1 in the catalogue). Manufactured from aerospace standard stainless steel and aluminium alloy Reliance standard precision gears can be specified for the most demanding applications. For customers that require higher transmission accuracy, to measure position more accurately or extend life in high speed applications, all Reliance's precision gears are available up to quality AQ14.
For applications that require more torque transmission, a standard range of 17-4 PH, hardened to condition H1025, is available. Further material choices are offered, commonly PEEK or acetal can be specified where low noise and/or insulating properties are required. For other application-specific requirements our engineers can help in the selection of exotic materials or add some customisation features to the component.
Reliance anti-backlash gears have been developed over a number of years and are manufactured with a two-piece construction. The fixed plate and hub are manufactured in one piece, which provides maximum integrity when attaching the gear to a shaft. This manufacturing method is far superior when compared to alternative anti-backlash designs which use a three-piece construction, with the hub and fixed plate joined together by a metal deformation technique such as swaging or riveting.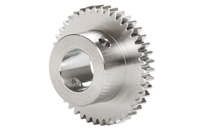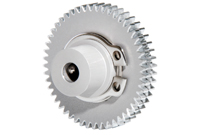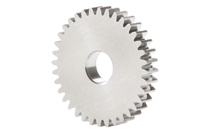 Modification Service
Reliance has a dedicated manufacturing cell where modifications can be carried out quickly and economically to customer specification. Typically weight reduction features or alternative fixing methods are requested – please contact us to discuss your requirement.
Brass Gears
The brass spur gear range is also available from stock or on a short delivery and provides customers with an economical alternative for less demanding applications.
Manufactured from high grade brass, ISO CuZn39Pb3, the standard range of spur gears also includes pinion shafts with tooth numbers as low as 10 and a small range of internal brass gears.
Fine Pitch Ground Gears
With gear sizes between 0.5 and 1.0 module, the precision ground spur gear range, manufactured from chromium molybdenum steel hardened to 49-55 HRc, and with tooth profiles manufactured to ISO grade 5, is ideal for higher loaded, mechatronic applications. Available from stock or on short delivery the bore and the faces of the ground gears are purposely left soft to enable quick modification to suit alternative fixing or shaft diameter requirements.
Worms, Bevels and Internal Gears
Reliance offers a range of worms and wheels, bevel and internal gears that are designed to complement our spur gear range by offering additional motion options. As with the spur gears these gears are offered as precision grade in stainless steel and brass as a more economical alternative for less demanding applications.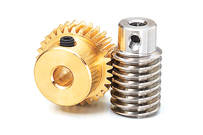 Worms and wheels
Worm and wheel drives provide high ratio right angled motion in a small space. Both precision cut and precision cold rolled worms are available (refer to the features, options and technical information on the individual product pages). In general, for more accurate applications the precision cut worms will give the best results and for applications requiring a little more torque transmission precision rolled worms should be used.
Please note that this catalogue only shows a limited range of worms and wheels. Reliance has the ability to cut worms and wheels from 0.2 module up to 1 module; please contact us for requirements for special variants.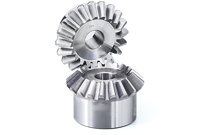 Bevel Gears
Bevel gears are more efficient than worms and wheels for right angle drives, but they are typically used for lower ratio applications; if high ratios are required a spur gear reduction stage can be incorporated. Typically shaft angles of 90 degrees are used but other angles are possible – please contact us to discuss your application.
As with the worms and wheels, bevel gears are available in stainless steel and brass; the stainless steel option being higher precision than the brass option. It is important to note that with the bevel gears, where two gears are shown on the page the part number refers to the gear pair. Where only one gear is shown on the page the part number applies to individual gears only – for a pair, two gears must be ordered.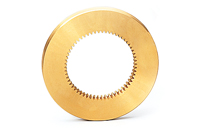 Internal Gears
A small range of standard brass internal gears is offered for use with the brass gear range. Please contact us to discuss your application.
Design and Manufacture of Custom Gears
Alongside our extensive range of standard catalogue gears Reliance also designs and manufactures bespoke gears to customers' requirements. Reliance has over 50 years of experience in gearing, ranging from high accuracy, long life applications such as radar and optical payload applications, to very short life highly loaded aerospace applications.
Gear specialists at Reliance are very happy to offer advice on the design strategy for custom gears and can help with datum positioning and dimensioning to achieve the best possible accuracy at the most economical cost. For example, simply utilising the mounting feature of the gear as the datum for the gear cutting operation avoids unnecessary tolerance build ups and interim manufacturing operations.
Reliance's engineers have a detailed knowledge of the principles of gear tooth generation and the resulting contact conditions. This enables them to work with engineers in other industries to offer advice on the modification of gear teeth to provide bespoke contact conditions that enhance the performance of the gear pair, or to achieve an imposed centre distance within the constraints of the design environment.
Typical market areas are aerospace, space, defence and down-hole instrumentation where performance-critical applications demand a deep understanding of gear geometry. Both external, internal and combination gears can be manufactured using high accuracy hobbing and shaping machines with a module range of between 0.2 to 1.5 module and a diameter range from 2 to 330 mm.
Custom gears can be manufactured from a range of materials such as, but not limited to, stainless steel, aluminium alloy, precipitation hardening steel, phosphor bronze, titanium and other speciality metals, as well as high performance polymers such as PEEK. Reliance also works very closely with accredited and formally approved surface coating and heat treatment specialists to provide most industry standard processes.
During manufacturing all gears are individually inspected for gear quality and size using a dual flank inspection process with maximum accuracies of 3 microns tooth-to-tooth and 5 microns total composite error. For demanding applications gears are inspected for lead, pitch and profile on our Klingelnberg P40 gear measuring machine.
Our expertise also extends to the associated structure in geared assemblies where we can provide design for manufacture advice or a full design from specification service. Typical projects can involve concept design, development testing, prototype manufacture, performance validation testing and production manufacture with final acceptance testing. For more information on custom gears, click here.
Contact us for more information