For Design Engineers Seeking Integrated Solutions
For design engineers seeking integrated solutions, we are able to combine catalogue products and assemblies to provide cost-effective sub-systems. Should a fully bespoke solution be required, further in-depth design engineering support can also be provided which, together with specialist manufacturing, assembly and test facilities, enables production of a wide range of custom-designed electro-mechanical, opto-mechanical, clean and high-vacuum solutions.
The case studies below give an overview of the range of products available in the catalogue, shown in the context of both rotary and linear motion systems. We have also provided case study examples of how the catalogue products, together with engineering, manufacturing, assembly and test support, have been used to provide integrated solutions. Highlights of some of our custom design and manufacturing capabilities are also shown on pages 1-12 to 1-15 in the RG36 catalogue.
The Reliance catalogue provides a one-stop-shop – from components and assemblies for rotary and linear motion to intelligent control and actuation products. Each product is offered with a refined, considered range of options and associated products, such as circlips and screws, all of which have been engineered to interface correctly.
To help design engineers develop prototypes quickly and effectively we are able to supply small quantities. Our manufacturing facilities enable larger quantities to be supplied for full production requirements, available with scheduled delivery, consignment stocking and stock management services.
Our catalogue products can be readily modified to support applications which require a tailored solution. If you are not sure whether we offer the specification you need for any of the products in this catalogue then please contact us and we will endeavour to find a solution.
Reliance Precision Develops Motorised X-Y Stage
Reliance Precision has successfully developed a motorised X-Y stage to suit a customer requirement. This is made possible through Reliance's comprehensive range of products and in-depth knowledge and experience of standard product integration.
Reliance was approached with a requirement for a motorised anti-backlash X-Y stage needing a positional accuracy of 0.010 mm, unloaded repeatability of 0.005 mm and a load capacity of 50 N. To achieve a solution building blocks have been taken from Reliance's catalogue of mechatronic components, providing the essential linear actuator with anti-backlash nut and coupled with a linear slide to guide and support the system accurately.
These products have been adapted to suit the specific requirements of this project, with design engineering to integrate the piece-parts and provide a custom assembly.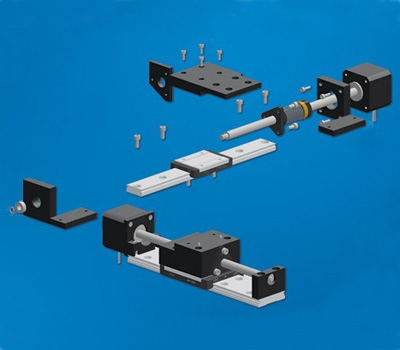 Collaborate Design Approach Product Innovation
Steeper Group, leading provider of innovative prosthetic technology products, embarked on a new product development programme. They faced the challenge of producing a commercially competitive product with the necessary functionality to enable amputees to regain normality, independence and control. The company sought the help of Reliance to provide catalogue parts for the development of their new bebionic hand.
They initially approached Reliance for the supply of standard catalogue leadscrews and nuts to prove the design concept for the actuation of the fingers and thumb of the hand. Reliance spent time investigating the design requirements behind the enquiry for stock catalogue parts and worked with Steeper to further develop their sub-assembly, combining both stock and customised products, and improving manufacturability.
Reliance's broader capabilities in design and manufacturing subsequently expanded their scope of involvement, taking the project from concept to detailed design and right through to assembly, working as Steeper's industrialisation partner. This role was further underpinned by Reliance's investment in test development facilities, which enabled  Steeper to have a high level of confidence in the performance of the sub-assembly.
Reliance ultimately provided a fully integrated solution, including parts which were tailor made to suit the application. The key technical challenge was to develop an actuator which must provide low backlash and exceptionally quiet operation, whilst at the same time balancing the need for high speed and non-backdrivability. The solution had to be extremely efficient and reliable so as not to compromise the needs of the amputees who Steeper had worked so closely with throughout the inception of their bebionic hand. This was achieved successfully and the newly launched product received a very positive response from the market.
As a result of strong communication and coordination between the two companies and due to Reliance's engagement in the finer detail of the early design process Reliance and Steeper have developed a very strong working relationship. Almost five years on the companies continue to collaborate on a range of new product designs.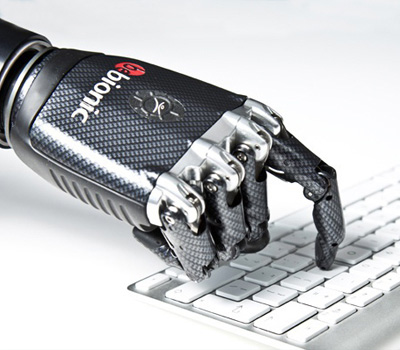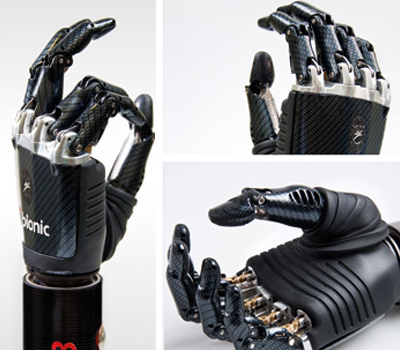 Reliance Rack Actuator Assembly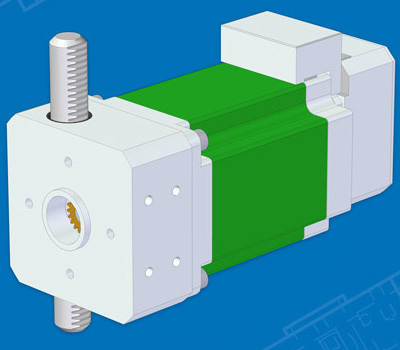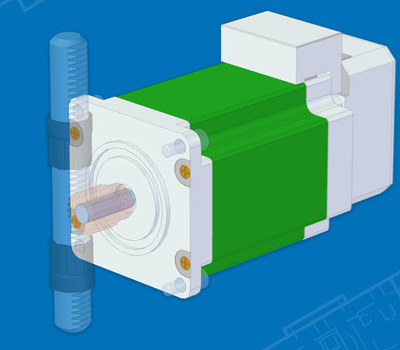 The Reliance Rack Actuator is a good example of a number of standard components integrated together in to a small sub-assembly to provide a reliable actuation system. This compact actuation system combines the Reliance Cool Muscle servo system with a rack and pinion drive to give precise linear motion for high speed applications.
After successful integration into a number of applications Reliance Precision has designed a range of standard rack actuator assemblies. Multiple configurations are available developing peak forces up to 150 N and rated speeds of 300 mm per second, with resolutions of better than 1 micron and standby power consumption of less than 1.7 watts. The assembly has a number of different mounting options for ease of mechanical installation.
The Racktuator™ has built-in closed loop control with an integrated 32 bit CPU, magnetic encoder and PLC. The unit is fully integrated, saving space and cost, and makes system integration faster and simpler with control at the point of use. The Racktuator™ is fully programmable and can store on-board discrete positions, speeds, accelerations, timers, torque limits and custom variables, all to be recalled by up to 15 separate motion control programs. It also has built-in maths and S curve functions for advanced motion control.
Multiple Racktuators™ can work in sequence, either to produce circles, ellipses, or complex arc motions, or in a daisy chain network to automate pick-and-place machines. The Racktuator™ can be operated independently or communicate with a PC host via RS232 or USB. It can also be fitted with a traditional stepper motor, being driven by step and direction signals or with CW/CCW pulses to bring the advantages of an AC servo system to any stepper motor application.
The Racktuator™ is available with both solid and tubular racks, suitable for a variety of applications from laboratory automation to food preparation and packaging.