Our range of precision gears offers a wide selection of anti-backlash gears, spur gears, hubless gears and hardened gears with many hundreds of thousands of combinations of bore size, face width, material, module and number of teeth. In line with our commitment to meeting customer requirements, any tooth number that can be configured for any given gear diameter can be supplied. This allows our customers ultimate flexibility when selecting their gear ratio and the ability to use the smallest or most practical centre distance.
Gears are available in standard modules from 0.2–1.5, bore sizes from 2–25 mm and to a minimum quality class of AQ10 (for definition of AQ10 see page T4-1 in the catalogue). Manufactured from aerospace standard stainless steel and aluminium alloy Reliance standard precision gears can be specified for the most demanding applications. For customers that require higher transmission accuracy, to measure position more accurately or extend life in high speed applications, all Reliance's precision gears are available up to quality AQ14.
For applications that require more torque transmission, a standard range of 17-4 PH, hardened to condition H1025, is available. Further material choices are offered, commonly PEEK or acetal can be specified where low noise and/or insulating properties are required. For other application-specific requirements our engineers can help in the selection of exotic materials or add some customisation features to the component.
Anti-backlash Gears
Reliance anti-backlash gears have been developed over a number of years and are manufactured with a two-piece construction. The fixed plate and hub are manufactured in one piece, which provides maximum integrity when attaching the gear to a shaft. This manufacturing method is far superior when compared to alternative anti-backlash designs which use a three-piece construction, with the hub and fixed plate joined together by a metal deformation technique such as swaging and riveting.
Gear Builder
We have a dedicated 'Gear Builder' to help you create the gear you need for your application from our standard gears range. Once you have created the part number, you can request a price and delivery from our sales team by completing the contact us form at the end.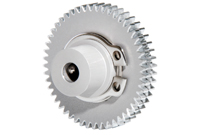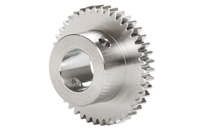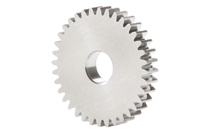 Catalogue Downloads
Download our catalogue for more information on our range of precision gears or contact us.