Precision worms and wheels from Reliance. Worm and wheel drives provide high ratio right angled motion in a small space. Both precision cut and precision cold rolled worms are available (refer to the features, options and technical information on the individual product pages). In general, for more accurate applications the precision cut worms will give the best results and for applications requiring a little more torque transmission precision rolled worms should be used.
Please note that this catalogue only shows a limited range of worms and wheels. Reliance has the ability to cut worms and wheels from 0.2 module up to 1 module; please contact us for requirements for special variants.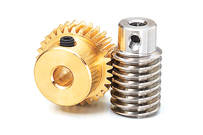 Catalogue Downloads
Download our catalogue for more information on our range of worms and wheels or contact us.