Flexible Disc Spring Couplings
A number of different options of flexible disc spring couplings are available, based on both single and double disc spring construction. Please note that single disc spring couplings should only be used where the misalignment between the shafts is restricted to angular and axial.Single disc spring couplings cannot be used where radial misalignments are present.
The RFSXK-2213 and 3019 type uses a novel design which places the clamps inboard of the disc springs to give the shortest possible overall length. The RFSXK-3850 type has an extended centre piece which allows high radial misalignment capability whilst maintaining good accuracy of transmission.
For more information, please download the catalogue below or contact our sales team.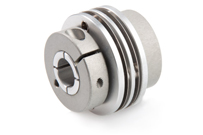 Catalogue Downloads
Download our catalogue for more information on our range of flexible shaft couplings or contact us.