Precision couplings with excellent kinematic properties. These maintenance free, zero-backlash bellows couplings offer excellent optimum compensation of misalignments, very high torsional stiffness, low restoring forces and vibration-damping effect. The couplings are available with three construction options: nickel, stainless steel and bronze.
For the highest accuracy, nickel bellows couplings; for torque transmission, stainless steel bellows couplings; and where space is restricted, bronze bellows couplings are ideal. Our coupling range is available with bore sizes from 2 mm up to 12 mm.
Shaft mounting options are set screw and clamp types for the stainless steel and nickel bellows options, with the brass bellows option available in clamp type only. These couplings ideal for use in instrumentation and other similar sensitive applications.
Technical features include:
• Zero backlash
• High torsional stiffness and low bearing loads
• Complete absorption of eccentricity, angularity and end play by spring action of the bellows
• Maintenance free
• Recommended temperature range ­30ºC to +120ºC
For more information, please download the catalogue below or contact our sales team.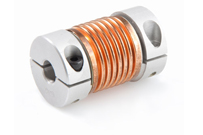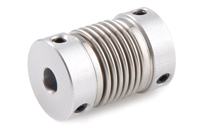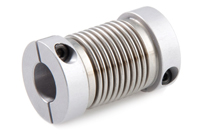 Catalogue Downloads
Download our catalogue for more information on our range of flexible shaft couplings or contact us.