Our range of solid couplings (rigid couplings) are available in stainless steel or aluminium, are primarily used for connecting two accurately aligned shafts. The design of the coupling which is available in either a one or two piece construction, prevents shaft marking or the screws from loosening during operation by precision honed bores and Nypatch anti-vibration hardware. The solid coupling range provides superior torsional holding strength.
Technical features include:
Does not mark the shaft
Nypatch anti-vibration hardware supplied
Precision honed bore
The two-piece style (stainless steel type only) is balanced and easy to assemble
Max speed of 4,000 rpm
Material
     – Stainless steel grade 18.8 type 303
– Aluminium grade 2024 T351
Recommended temperature range
– Stainless steel -40ºC to +175ºC
– Aluminium -40ºC to +100ºC
For more information please download the catalogue below or contact our sales team.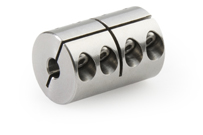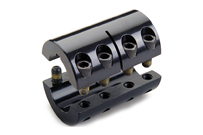 Catalogue Downloads
Download our catalogue for more information on our range of flexible shaft couplings or contact us.