The Double Loop Coupling is a cost effective and efficient rotary motion transfer solution for mechanical design engineers. The design offers excellent vibration absorption and compensation of radial, lateral and angular offsets. The connecting element is manufactured from a polyurethane which gives the coupling thermal and electrical insulation as well as good resistance to many chemicals.
Technical features include:
Corrosion protection
Damping of vibration and shock
Good compensation of radial, laterial and angular offsets
Maintenance free
Recommended operating temperature range -30ºC to 80ºC
Good resistance to many chemicals including; petrol, oil, benzene, toluene, hydrocarbons, alcohols, glycols and solvents.
Supplied with screws manufactured to DIN 916
For more information, please download the double loop coupling datasheet or contact our sales team.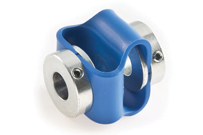 Catalogue Downloads
Download our catalogue for more information on our range of flexible shaft couplings or contact us.