New to the catalogue coupling range are bar clutch couplings. The connecting element is manufactured from 6-6 poly-amide giving excellent damping of vibrations and shock. The aluminium hubs are anodised to protect from corrosion. This is a rotary motion transfer solution for mechanical design engineers requiring a cost effective, electrically insulated and maintenance free coupling.
Technical features include:
Corrosion protection
Damping of vibration and shock
Electrically insulated
Good compensation of radial, lateral and angular offsets
Maintenance free
Recommended temperature range -10ºC to +80ºC
Good resistance to petrol, oil, benzene, toluene, aromatic and non-aromatic hydrocarbons, alcohols, glycols, solvents and many chemicals.
Supplied screws manufactured to DIN 912
For more information, please download the bar clutch coupling datasheet, or contact our sales team.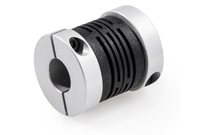 Catalogue Downloads
Download our catalogue for more information on our range of flexible shaft couplings or contact us.