Reliance Bevel and Hypoid Gearboxes provide an economic, space saving solution for right angle motion in a restricted space envelope. There are 3 types of gearbox available from Reliance.
Bevel Gearboxes are available with either single or double output shaft configurations with either 1:1 or 2:1 ratios.
The BE series is the most economical choice, offered with stainless steel bevel gears mounted in plain bearings, with either 1:1 or 2:1 ratios. It is a small, compact, anodised aluminium unit, with a removable, plastic, clip-on cover. The unit can be easily mounted into an assembly to provide a 90º drive where space prevents a direct layout.
The BS series is a one-piece, slim-line aluminium housing with stainless steel bevel gears and shafting, offered in single or double output configurations with either 1:1 or 2:1 ratios. Using ISO 8 quality bevel gears, when assembled the backlash of the assembly is as low as <20 arcmins. It has a completely sealed casing providing a dust free and safe operation, with pre-tapped holes for alternative easy mounting. It is lubricated with high quality grease before sealing, providing lifetime lubrication and low maintenance.
The BS and BE series bevel gearboxes are suited to low-load industrial applications. For higher ratio requirements, between 5:1 and 10:1, we offer the HY series hypoid gearbox.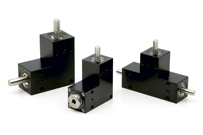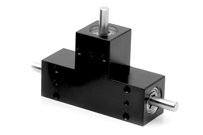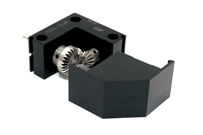 Catalogue Downloads
Download our catalogue for more information on our range of gearboxes or contact us.