Reliance Cool Muscle Stage
The Reliance Cool Muscle Stage (RCMS) series of leadscrew stages combines the high speeds and programmability of Reliance Cool Muscle motors with the accuracy and reliability of a leadscrew-driven linear slide.
The RCMS is available with two different motor sizes and in a wide range of travel lengths and leadscrew and carriage configurations.
The precision slide's aluminium guide and carriage are driven by a rolled stainless steel leadscrew, available with metric and imperial leads. High performance polymers and TFE coating extend the life of the slide's moving parts.
The Reliance Cool Muscle motor, in NEMA sizes 17 and 23, integrates an efficient vector drive and H-infinity controller with a 50,000-count encoder to form a servo positioning system operating at speeds from 0 to 3,000 rpm with minimum power consumption. Cool Muscle's torque sensing and software travel limits give the option of eliminating home and limit switches from your system.
Typical applications for the RCMS include test instrumentation used in industrial automation and university laboratory research equipment used by the energy industry.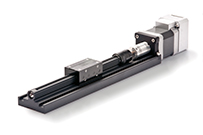 Catalogue Downloads
Download our catalogue for more information on our range of motorised actuators or alternatively, contact us.