The linear rail actuator consists of a stationary base and load bearing carriage that travels along a rigid extruded aluminium rail, together with a single stack size 17 stepper motor.
The carriage design is unique; it controls slide bearing play with a self-adjusting linear bearing. Integrated along the entire length rail system are "T" slots allowing mounting of limit switches and sensors.
The leadscrew is made from 303 stainless steel with a Black Ice™ TFE coating for durable and permanent lubrication.
The features of the linear rail actuator include:
• "T" slots integrated into exterior rail bottom and sides that accommodate full length support and various mounting options
• Loads easily attach to the compact, moving carriage with four or six M4 x 0.7 size screws
• Load bearing carriage moves efficiently and smoothly within the internal rail geometry of this specially designed aluminum extrusion
• Rail provides end-to-end axial stability and precise motion system accuracy
• Automatic adjustments of slide bearing play with a patent pending "anti-backlash" linear bearing
• Rated life equals that of the existing leadscrews of similar size
• Leadscrew end configurations adapt to various rotary motion sources
• Black Ice™ TFE coatings on a 303 stainless steel leadscrew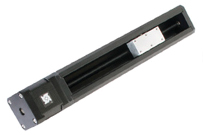 Catalogue Downloads
Download our catalogue for more information on our range of motorised actuators or alternatively, contact us.