Providing Custom Built Solutions
As well as offering a range of standard actuators Reliance is able to develop custom actuators designed to suit individual requirements. 
Bespoke motorised actuators
 are based on our range of catalogue components and assemblies, together with housings and fittings manufactured by Reliance in the UK and Ireland.
Working closely with our customers to understand the application and design specification, we are able to offer design engineering support to help develop an appropriate assembly, bringing knowledge and experience from working in a variety of industries and applications.
Examples include a miniature motorised leadscrew actuator for a drug dispensing system, a motorised leadscrew driven slide assembly, using multiple Reliance Cool Muscle motors, for an XYZ theta position system, and a 3-axis rotary-linear actuator for a medical scanner.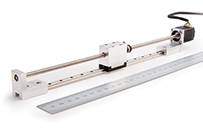 Catalogue Downloads
Download our catalogue for more information on our range of custom actuators or alternatively, contact us.