Gear Clamps and Accessories
Our gear clamps, ground shaft and accessories are a group of precision manufactured components complementing the other components in the Reliance range.
Precision ground 303 stainless steel shafting from 3 mm to 12 mm diameter. Ground stock shafts can be cut to or machined to a specified length. End modifications similar to those provided on lead screws are available. Lengths of up to 1,000 mm available on the 10 mm to 12 mm diameter shafts, 600 mm for the smaller diameter.
303 stainless steel shaft retaining collars with bore from Ø2.0 to Ø12.
Gear and dial hubs with pin or clamp type fixing. Set screw supplied with the pin type version.
Precision gear clamps specifically designed to provide reliable accurate clamping when used with Reliance's cut gear range. Standard stainless steel variants and low inertia aluminium alloy are both available.
Stainless steel shaft retaining collars with bores diameters from 2 mm to 12 mm. Ideal for hubless gears.
All products in the gear shaft and accessories section are available in imperial sizes, please contact our sales team for more information.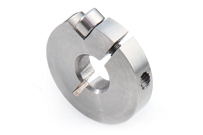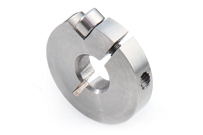 Gear Clamps – Low Inertia