The Reliance Cool Muscle Motor (RCM1)
The RCM1 stepper motor is a cost-effective miniature servo system that combines a precision stepper motor and high resolution encoder with sophisticated drive and control electronics in a single, compact unit.
Compared with an equivalent size of stepper motor Cool Muscle works faster, with more available torque, it is more efficient and generates less heat.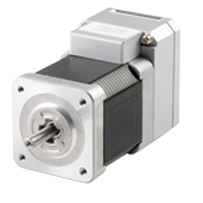 – NEMA sizes 11, 17 and 23 each with two frame lengths
– Encoder resolution of 50,000 counts per revolution
– Speeds from 0 to 3,000 RPM
– Continuous torques from 0.027 to 0.87 Nm (1.24 Nm peak)
– H-infinity controller and vector drive for fully closed loop control of position, speed and torque. 
– Fully programmable for standalone operation
– RS232 and USB communications as standard
– Options for RS485, PROFIBUS and Ethernet
– Digital and analogue input and output
– Safe and efficient 24V DC operation
Closed loop control means no step loss. In an open loop system it is possible for the motor to fail to move the exact number of steps if it is overloaded. Cool Muscle, being a closed loop control system, is able to identify any potential for step loss and to correct it. 
More Information
The Reliance Cool Muscle is available with two types of control interface: Pulse Type (P) and Computer Type (C). The P-Type is applicable for a drive and stepper system with step-pulse control, such as a PLC. Cool Muscle provides an effective drop-in solution to resolve step loss problems and also provides a more integrated solution, having a combined stepper and drive. The C-Type offers a higher level of computer control in a single integrated unit which can remove the need for a separate controller or, in more complex systems, reduce the investment required in additional controllers.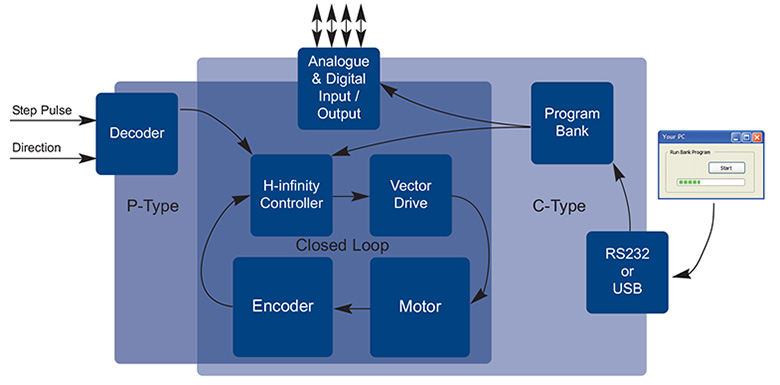 Cool Muscle's unique features include the ability to link up to 15 motors which can operate together in complex sequences without an additional controller. Cool Muscle is able to use a physical limit of travel as its reference position, using torque sensing to safely and accurately find the limits of travel without needing a position sensor (e.g. limit switch).
The high level of integration provided by Cool Muscle reduces cabling, keeps components to a minimum and speeds up system assembly.
Cool Muscle is ideal for laboratory and test equipment or for light industrial automation.
Power-managed and energy efficient, Cool Muscle always stays cool.
Catalogue Downloads
Download our catalogue for more information on Reliance Cool Muscle Motors or contact us.