Reliance Announce Major Space Contract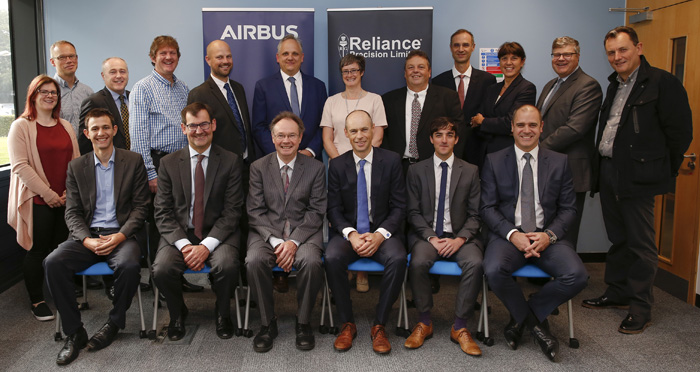 Reliance Precision Limited has been awarded a major contract by Airbus Defence and Space Limited for the development and supply of a space actuator for Eurostar Neo, Airbus's new GEO telecommunications satellite platform.  The contract was signed at the European Space Mechanisms And Tribology Symposium (ESMATS), with the European and UK space agencies present.
Reliance's Technical Director, Dr Ian Laidler, explains the background: "This contract is an important next step in our Stepper Motor Gearbox (SMG) development roadmap.  Our aim is to address ESA's objective to improve competitiveness in the European satellite industry, by bringing a new family of actuation products to the space market.  We are extremely proud to have Reliance's technology chosen for Airbus's new platform."
Airbus Defence & Space's Mechanisms team have worked closely with Reliance, providing the necessary specifications and guidance on materials and process management appropriate to space.
Ian Rathband, Head of Space Mechanisms and Coolers explains: "We are pleased to have chosen Reliance Precision for the development and supply of the NeoSMG, supporting their entry into the Space Mechanism supply chain. We recognise their strength of knowledge in motors and geared applications and have seen them successfully convert terrestrial capabilities to be compliant to the advanced technical requirements of mechanisms for spaceflight.  They have applied established operational capabilities, quality and product assurance procedures to meet the stringent, high standards of reliability and survivability for space mechanisms. The partnership with Reliance Precision supports the UK Space Agency's strategy to develop the UK SME space supply chain and strengthen the UK space industry overall."
Kevin Gould, ESA's Senior Procurement Coordinator for the Eurostar Neo Project adds: "It is very encouraging to see Reliance, as a UK SME and fairly new entrant into the UK space industry, working in such close partnership with the Airbus space mechanisms team.
Reliance brings their experience in the development of motor/gear applications to the design of the NeoSMG, an integral part of the overall Solar Array Drive Mechanism (SADM) development, which in turn forms a vital part of Eurostar Neo, Airbus's latest telecommunication satellite platform."