Reliance Sponsor Snowdog as part of Snowdogs Support Life, Kirklees Art Trail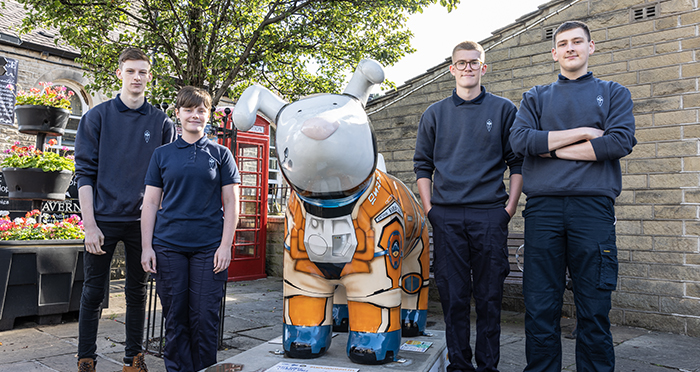 Reliance Precision Limited 'Reliance' is pleased to share that it is sponsoring a Snowdog as part of The Kirkwood's Snowdogs Support Life, Kirklees art trail. The trail opened to the public on Friday and is made up of 31 large and 36 medium Snowdog sculptures which are on display across Kirklees. The event is designed to encourage people to be 'tourists in their own town' and will raise money for The Kirkwood, who provide vital care for people affected by any life limiting illness in towns and villages across Kirklees.
Accompanied by a member of the Design and Communications department, Reliance's latest intake of apprentices visited Holmfirth to see the Snowdog the company is sponsoring. This was the first time that anyone in the wider business had seen the 'Mars Rover' design, created by artist Mik Richardson. The design was chosen by a small team back in March and had to be kept under wraps until the start of the trail.
Roger Barrett, Design and Communications, said:
"As soon as we saw the Mars Rover artwork at the Art Selection event, we knew that we had to have it. It just seemed to be a logical choice because of our work producing mechanisms and components for use in space applications. It's great to see the design come to life!"
As well as encouraging its employees to take part in the trail with their families and friends, Reliance will also be holding a bake sale in September to raise money for The Kirkwood.
Ian Walter, Group Finance Director at Reliance Precision, comments: "The Kirkwood is such an important local organisation which touches the lives of many people across Kirklees. We felt that the art trail was something that the whole community can enjoy, whilst at the same time raising awareness and funds for The Kirkwood.  We are delighted to be sponsoring a Snowdog and supporting the event."
To find out more about the Snowdogs Support Life, Kirklees art trail please visit: www.snowdogskirklees.org.uk/
To find out more about The Kirkwood's mission to Support Life across Kirklees, please visit: www.thekirkwood.org.uk/