Reliance Welcomes 2022 Apprentices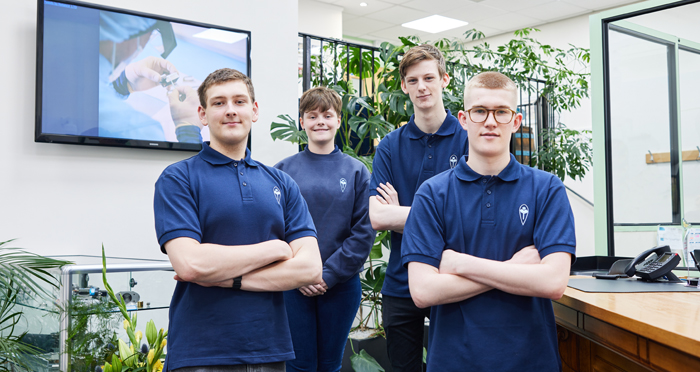 Reliance Precision Limited ('Reliance') would like to extend a warm welcome to its 2022 Engineering Apprentices – Lucie Harding, Olly Swinden, Sam Taylor and Seb Havell.
This year, there is a mixture of ages and backgrounds – Lucie joins having completed her GCSEs at King James's School, Olly his A Levels at Shelley College, and both Sam and Seb having spent the last year studying Engineering at Kirklees College.
Thankfully this year's recruitment process was able to return to the more personal face-to-face process. After an initial selection conducted over Microsoft Teams, a small number of candidates visited Reliance to undertake practical testing. The final stage of the process was an interview with a panel of directors and members of Reliance's Leadership Team.
The apprentices join Reliance just as work on a new apprentice training area is being completed. The facility has been relocated following the recent expansion of the neighbouring Tool Room department. The move provided an opportunity to improve the layout of the apprentice training area and expand the classroom area. The classroom has been upgraded to include new desks and equipment, an interactive SMART board, and more effective sound proofing. This will create a pleasant environment where apprentices can go to concentrate on their studies and complete coursework.
Rob Farrell, Reliance's Training School Team Leader, comments "The 2022 apprentice intake are at the start of their industry recognised apprenticeship, which will see them gain hands on practical experience as well as classroom-based leaning both on and off site. I look forward to being part of their journey over the next four years and beyond. Many of our past apprentices are now senior engineers and leaders of the organisation and it is always rewarding to see young people's careers grow and develop."
Applications for Reliance's 2023 Apprenticeship Scheme intake will open in January 2023. For further information please visit www.reliance.co.uk/apprenticeship-scheme.