Reliance Employees Complete Exec Training Challenge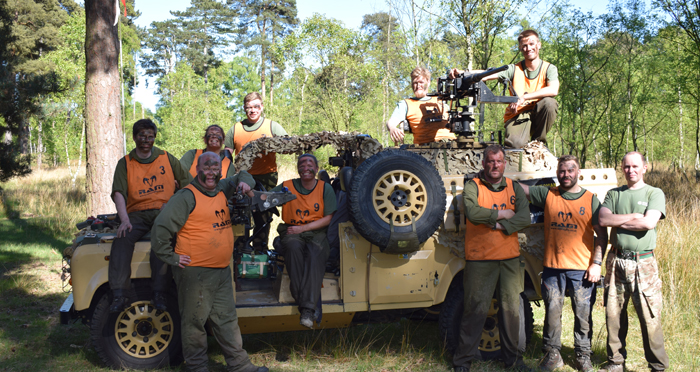 Two Reliance employees are back at work following a demanding three day training challenge. Tom Broom, Sales Engineer, and Jack Moore, Manufacturing Engineer, represented Reliance at this year's Exercise Executive Stretch challenge.
Exercise Executive Stretch is an annual event organised by the Volunteer Reserve Forces, who represent all four Armed Forces disciplines – Royal Navy, Royal Marines, Army and Royal Air Force, and the RFCA (Reserve Forces' & Cadets' Association). It gives participants the unique opportunity to learn some of the well-recognised and respected leadership skills which the British Armed Forces use. The three day challenge, held at a military training facility in Yorkshire, enables individuals to develop leadership and teamwork skills that can be applied in the workplace, as well as improving self-confidence and enhancing communication skills.
Upon arrival at the event, the delegates were split into teams, intentionally chosen to represent a cross section of age, skills, physical ability, etc., and were assigned a mentor, a member of the Reservists. Over the course of the three days, they worked in their teams to tackle a series of leadership challenges, planning exercises and physical activities. These involved problem solving, lateral thinking and initiative, requiring the individuals to call on a whole range of skills and to work effectively as a team. Each task provided an opportunity for the teams to score points based on their performance.
Tom explains "The challenges we faced were really quite varied. We had to complete an assault course, undertake a shooting simulation, upright a lorry using a winch, as well as undertaking various 'getting the team from A to B exercises' under different constraints. A particularly tough task was when we had to camouflage an armoured vehicle in a wood, which we had to do in silence after being allowed only two minutes to talk to one another and plan."
Jack adds "Teamwork was a real focus. Completing challenges successfully was about the team and not about individuals. So for example, on some of the more physical tasks we had to come up with a solution that worked for every member of the team, not just for how the fastest or strongest person would do it."
The event culminated with the Commander's Challenge, a three mile run, with a number of obstacles and problem solving challenges along the way. Managers from the organisations taking part were invited to attend to watch their employees in action.
The team that Tom was a member of not only won the Commander's Challenge, but won the overall competition. He comments "I thoroughly enjoyed taking part in the challenge, it really was a lot of fun. From being eight complete strangers at first, I now have seven new friends. It was an interesting process having to get to know people so quickly and gain an insight into their strengths and weakness. We needed to understand each other well, not only to ensure we picked the most appropriate leader for each task, but to know how to work together to complete the challenge successfully."
Jack adds "The biggest thing I gained from the event is self-confidence. I learnt I shouldn't be afraid to put my ideas forward and make my voice heard. You can often surprise yourself with what you can do when you're taken outside of your comfort zone."
Watching the Commander's Challenge, Kathryn Hullah, from Reliance's Senior Management team, explains "Reliance have been sending employees on the Exercise Executive Stretch challenge for many years. We see it as an excellent platform to enable employees to build confidence and to develop their leadership and communication skills. Our focus is employees at the early stages of their careers, where the team building skills they establish can make a difference when they return to the workplace." She adds "Visiting for the first time, one of the things that particularly struck a chord with me was when an Officer explained how the mentors always encourage everyone to have a go at being a leader, reassuring them that even if they might feel anxious about whether they might fail, not to worry because they have the support of their team. The Army has a really positive attitude to teamwork, and you can see it in the way they run courses like these. I was extremely proud of the contributions Tom and Jack made as representatives from Reliance, but most importantly for what both of them achieved personally."