Leadscrew Assemblies Designed for Miniature Mechatronics Systems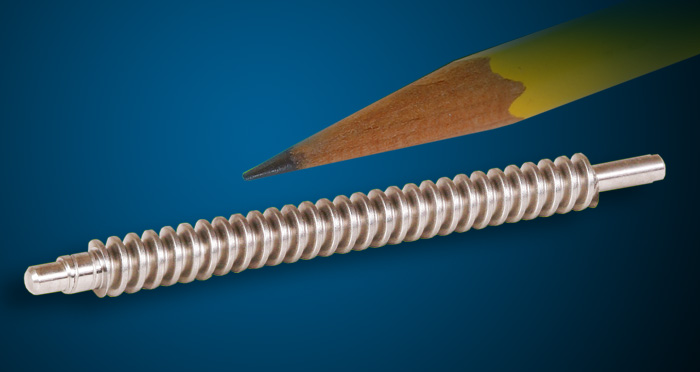 Alongside linear slides, couplings and precision gears, Reliance Precision Limited, the UK distributor for Haydon Kerk Motion Solutions, announce a new range of leadscrew sizes. The "Micro" Series leadscrew assemblies are 2 mm diameter screws with available standard leads ranging from 0.3 mm to 2 mm per revolution. They are available in a variety of nut configurations; manufactured using self-lubricating acetal.
This remarkable product line is an enabling technology, opening up a broader range of designs. The Micro Series allows for the miniaturisation of products, reduced power consumption, and weight reduction without compromising performance or reliability. These assemblies have been developed in response to growing demands in many markets that utilise miniaturised mechatronics systems and high-end motion control applications.
Kerk Micro Series leadscrew assemblies are manufactured from premium grade 303 stainless steel and provide exceptional performance, long life, and require no maintenance. High-accuracy threads with superior uniformity deliver precise motion and reduce noise and vibration. An optional Kerkote® TFE coating; a permanent dry lubricant, extends nut life while reducing friction and drive torque requirements.
The introduction of the Micro Series means engineers can take advantage of standard designs, existing tooling and quick delivery, to bring their products to market swiftly and cost effectively. Standardised nut and screw assemblies facilitate ease of design and flexibility without the need for customisation.
For more information on the full range of positioning components and assemblies, please contact Reliance at sales@reliance.co.uk