Reliance's Support Helps Give Finmeccanica-Selex ES Winning Bid in the Manufacturer of the Year Awards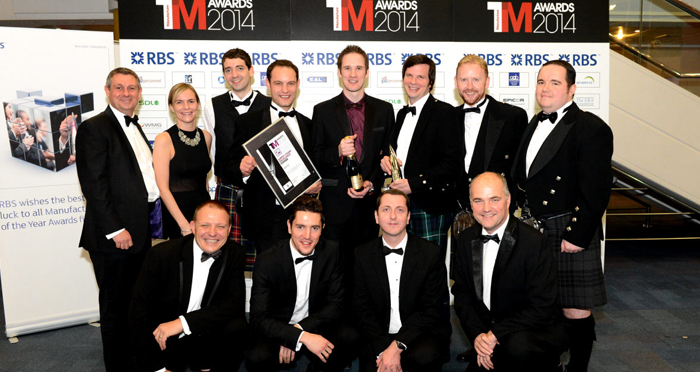 Reliance Precision congratulates Finmeccanica-Selex ES on their resounding success at the Manufacturer of the Year awards as winners in the category of 'Supply Chain Excellence'.
The 2014 awards, organised by 'The Manufacturer' magazine were held at The ICC in Birmingham on December 11  attracting an event record audience of over 1,000 guests. In an evening which showcased the best in British industry, Finmeccanica-Selex ES won their category with the support of Reliance and other supply chain associates. Reliance was cited by the judges as a key contributor because Finmeccanica-Selex ES's testimonial was supplier driven. The judges viewed this as far more compelling evidence and a decisive feature in presenting the award.
Reliance Precision Ltd has worked with Finmeccanica-Selex ES for a considerable number of years with the relationship gaining significant momentum in 2008 when Finmeccanica-Selex ES invited their supply chain to participate in Finmeccanica-Selex ES's Growth Readiness Review (GRR) project. This initiative created an ongoing culture where the sharing of knowledge and skills became standard practice and where a clear understanding of responsibilities and working relationships was evident at all levels. Today, this means Reliance feels confident in requesting changes or offering suggestions and improvements; a situation only made possible through mutual collaboration:
"Finmeccanica-Selex ES really do put the time and effort in to work collaboratively with us" explains David Sutcliffe, Reliance's Aerospace & Defence Business Manager, "They engage early with us and are open to ideas; never dismissing anything without consideration. The various projects have integrated engineering and commercial teams, so we have very good communication between our companies."
Finmeccanica-Selex ES believes that the supply chain is increasingly seen as the key to success at all levels in industry and is built on the effective exchange of ideas. This aspect was highlighted by the judging panel who were particularly impressed by the significance of the relationship that had developed over time between Finmeccanica-Selex ES and Reliance. This was in part facilitated by the use of an electronic gateway which encourages the sharing of information and performance, both internally and across functions between supply chain partners. As well as promoting greater agility, efficiency and customer responsiveness, it embraces the whole process, from procurement to delivery.
For Reliance, this continues a well established pattern in working alongside Finmeccanica-Selex ES and builds on a previous award in which Finmeccanica-Selex ES named Reliance Precision Ltd the "Laser UK Supplier of the Year". The award was presented in recognition of Reliance's achievements for exemplary quality and delivery, value added engineering, innovation and working relationship. Finmeccanica-Selex ES have also supported Reliance in the SC21 business excellence programme, which provides measurable KPIs for quality and delivery. Reliance's SC21 silver award re-affirms positive results from a successful supply chain approach.
Reliance's Managing Director, Andrew Wright, contends that going beyond the immediate Reliance/ Finmeccanica-Selex ES relationship has resulted in Selex promoting Reliance to a wider range of companies in their supply chain, encouraging a more extensive partnering culture. Andrew is enthusiastic about Reliance's contribution to the Finmeccanica-Selex ES award, commenting:
"This is a superb effort and many thanks to everyone that has been involved at any stage of Finmeccanica-Selex ES parts procurement and manufacture. We continue to cement our long-term business relationships and this gives a strong first impression to new customers."