Reliance Welcomes Innovate UK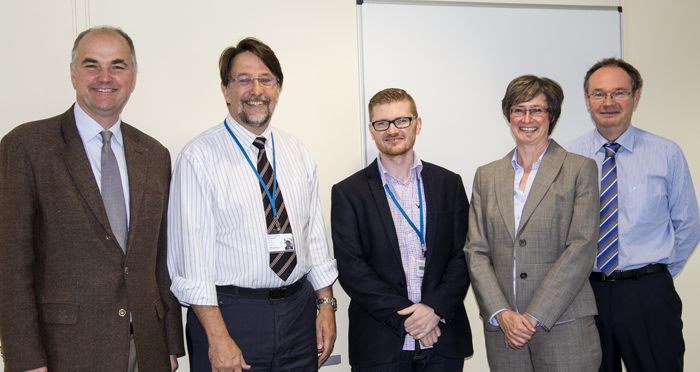 Reliance Precision hosted visitors from Innovate UK – the UK's innovation agency – to see first-hand how government funding is being used to stimulate business innovation and growth.
Kevin Baughan, Director of Technology & Innovation, and Craig Brown, Lead Technologist for Space,  made the visit as part of Innovate UK's strategy to develop stronger ties with the UK's mid-size companies.
Reliance Precision is classified as an SME (Small to Medium sized Enterprise), but is at the larger end of this business profile.  Kathryn Hullah, Reliance's Marketing Manager explains: "Many SMEs who access Innovate UK funding are smaller organisations, often inventors and start-ups, whilst Reliance is more of an established industrialiser.  It was very encouraging to hear Kevin at the recent UK Space Conference talk specifically about the importance of medium size companies in the context of realising innovation and building long term, sustainable business throughout the supply chain.  We invited Kevin to see how that was being done at Reliance, the range of projects we are working on and the technologies we are developing."
Reliance supports both new and existing companies; its extensive design and manufacturing capabilities helping bring new design concepts to market.  Innovate UK funding has been used in a number of customer projects – from robotic hands to space actuators.  Experience from early projects has led to further engagement with Innovate UK for internal R&D projects including specialist production engineering tools and building knowledge of new manufacturing techniques such as Additive Layer Manufacturing (ALM).
"The Innovate UK funding has helped us take steps into new business areas with greater confidence and a longer term view;" remarked Reliance's Managing Director, Andrew Wright, "it complements our internal investment programme and continues to help us diversify and grow."