Reliance Welcomes 2018 Apprentices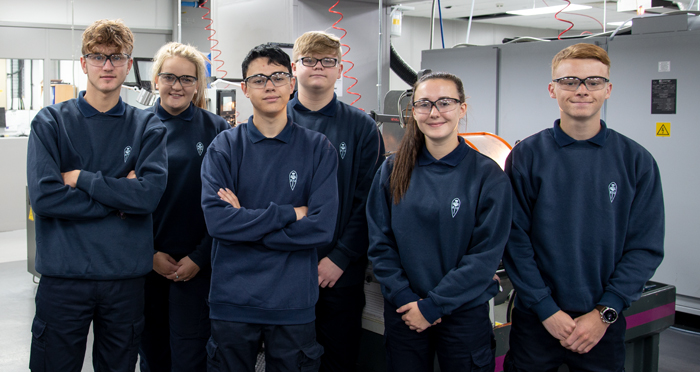 Reliance is pleased to welcome six new apprentices to their engineering apprenticeship scheme. Jake Leeming, Madison Taylor, Aaron Thompson, Patrick Higgins, Alexandra Gallagher-Wild and Sam Spurr will join the programme, as five others graduate, bringing the total number of apprentices at the company to twenty-five.
Reliance's Apprentice Training Co-ordinator, Robert Farrell, comments: "All six of this year's successful applicants demonstrated a real enthusiasm for mechanical engineering. Many of those who applied for the 2018 intake had visited the various promotional events we have been attending at local schools and colleges in Huddersfield and the wider area. It's encouraging to see that the people we meet are remembering us and sending in applications when they open".
This year's apprentices will benefit from new 3D printers recently purchased for use in the training area. The machines will allow them to complete the second unit of their first-year programme which focusses on rapid prototyping. The apprentices are taught how to use the printers to produce the CAD models they have designed using SolidWorks software.
Robert explains: "Engineering is becoming increasingly IT-based and it's important we deliver training that reflects major changes in the industry. The first-year apprentices have developed a great understanding of the technology and have been able to support the wider company using their knowledge. I believe it has been particularly useful for the Engineering Design department who frequently work with the apprentices to print samples and prototypes for live projects. One of our current second year apprentices has even been able to 3D-print custom grippers for the robotic arm he has been learning to program, which will soon be introduced to assist one of our manufacturing teams".
Andrew Wright, Managing Director, comments: "I'm delighted to welcome all six new apprentices to Reliance. As a company we are committed to our apprenticeship scheme. Over a quarter of our workforce are apprentice trained and we ensure that there are at least twenty-four apprentices in training at any one time".
For more information on our apprenticeship scheme, click here.