Reliance to Exhibit at Space-Comm Expo 2022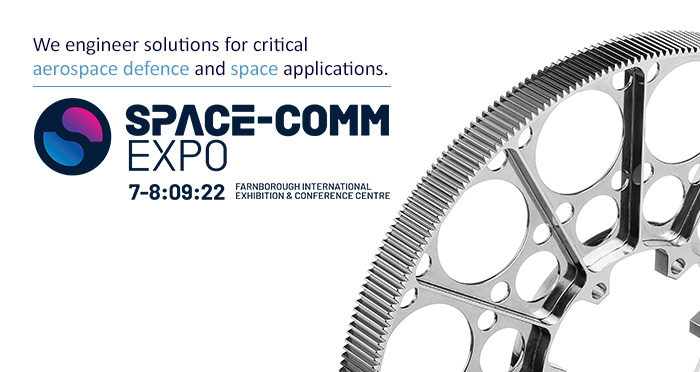 Reliance Precision Limited ('Reliance') are to exhibit at this year's Space-Comm Expo, held 7 – 8 September 2022 at the Farnborough International Exhibition & Conference Centre. They will be exhibiting at Hall 1, Stand G37.
This is Reliance's first time exhibiting at Space-Comm, a decision influenced by their recent success at the Farnborough International Airshow where the Space Zone was continuously busy with visitors. This, alongside the growing interest in the Space industry, prompted Reliance to take a small space to showcase their products and capabilities.
Space-Comm is the UK's largest exhibition focused on the commercial future of space for business, defence and aerospace. Supported by key industry associations and bodies, it features the manufacturing supply chain for products, services and solutions supplying commercial enterprises and developments in space.
Reliance will be displaying the NeoSMG (Stepper Motor Gearbox), which successfully completed its Qualification Review against the ECSS (European Cooperation for Space Standardisation) Standards earlier this year, as well as showcasing other products currently working in space applications.
Attending the two-day Expo for Reliance will be Andy Butt, Business Manager – Aerospace Defence & Space, and Tom Worsley, Engineering Director. Andy comments "With the forecast growth in space and release of the National Space Strategy, we are keen to capitalise on the interest in the sector and promote the NeoSMG to the international market." He continues "As a member of the management team for Space Hub Yorkshire, it is also a great opportunity to highlight the excellent work we do in co-ordinating activity across the region."
For further information on Space Hub Yorkshire please visit www.spacehubyorkshire.org
For further information on Space-Comm Expo please visit www.space-comm.co.uk