Reliance to Exhibit at Precisiebeurs 2021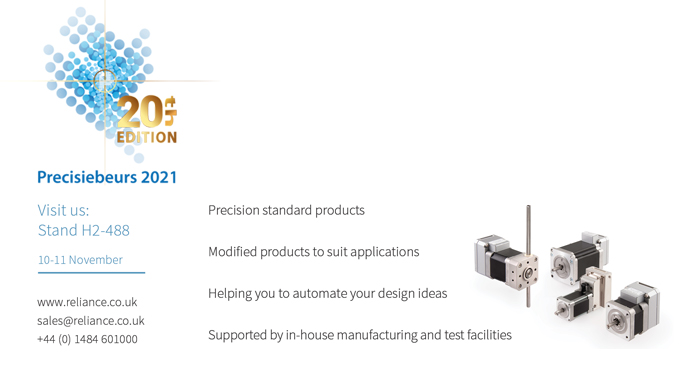 Reliance Precision Limited ('Reliance') will be exhibiting on Stand No. H2-488 at Precisiebeurs 2021, this year's 20th edition of the event. Moving to a new location: Brabanthallen, S-Hertogenbosch, The Netherlands, the show will be held 10th & 11th November.
Precisiebeurs is an annual event for high-tech industry specialising in precision technology. As demand for more accurate and smaller measurements, production and construction increases, Precisiebeurs provides the opportunity for meeting, collaborating and sharing knowledge in pursuit of future innovation and economic growth. The theme for this 20th anniversary edition is Precision Technology – the next 20 years. The current and rapidly changing circumstances will be the key topic, as products and technologies become increasingly complex and smarter.
This year will be Reliance's 10th year exhibiting at Precisiebeurs, and on their stand they will be displaying integrated solutions comprising XY solutions, a mini-slide, linear miniature actuators and a RZ-Theta stage. They will also have a range of standard components including motors, stepper motors, leadscrews, gears and linear guides.
Attending the show for Reliance will be John Bazuin, Business Unit Manager – Standard Products and Integrated Solutions, and Tom Broom, Technical Sales Engineer. John comments "We are looking forward to our 10th anniversary exhibiting at Precisiebeurs. The show always gives us the opportunity to catch up with existing contacts as well as meet new ones. This year we're particularly looking forward to showcasing our integrated solutions, which show how our in-depth design engineering capabilities combined with our specialist manufacturing, assembly and testing, enables us to produce a wide range of custom-designed electro-mechanical, opto-mechanical, clean and high-vacuum systems."