Reliance Strengthens Metrology Capabilities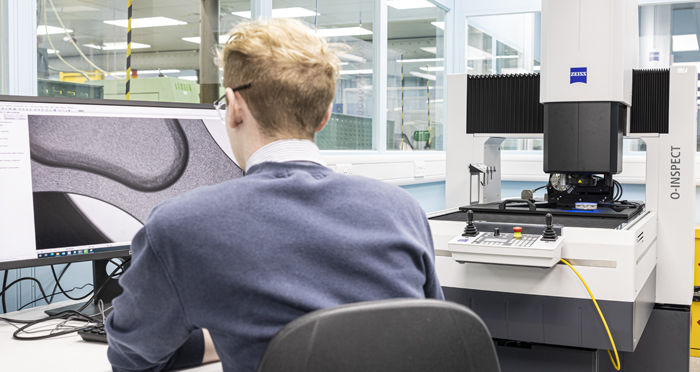 Reliance Precision Limited ("Reliance') has invested in a new state-of-the-art multi sensor Co-ordinated Measuring Machine (CMM) to further strengthen the capabilities of its Metrology and Inspection department.
The new machine, a ZEISS O-INSPECT, delivers reliable 3D accuracy, compliant with ISO standards. It features three different sensor types, enabling Reliance to select the most optimal sensor technology to measure each characteristic of a part:
Contact – Tactile measurements using minimal probing forces and small tip diameters which make physical contact with the surface. Benefits include the ability to capture points quickly and precisely, allowing a large number of measurement points to be recorded in a single movement.
Camera – Noncontact measurement principle that uses a specialist camera to detect edges and surfaces. It has a 4x larger visual field and good image definition in the peripheral zones which provides excellent accuracy and reduced measuring time.
Chromatic White Light – ZEISS DotScan is a noncontact measurement principle that enables the capture of workpiece topography on sensitive, reflective or low-contrast surfaces which make it difficult to use other sensors.
These different sensor types, coupled with the addition of a programmable rotary axis (enabling the inspection of characteristics from all sides), provide Reliance with greater flexibility and efficiency when measuring parts that require the combination of sensor technologies. The company also benefits from enhanced data sharing and programming as the ZEISS O-INSPECT integrates with the existing ZEISS machines across the business.
David Torr, Head of Metrology at Reliance, comments "The introduction of the ZEISS O-INSPECT CMM has expanded our Metrology portfolio and brought new measuring technology to the team. With two optical measuring machines due to be retired from the business, it was the ideal opportunity to invest in a machine that would provide greater flexibility and increase our measurement capabilities". He continues "The purchase of the machine is a significant investment for Reliance, supporting the organisation's strategic direction of continuous innovation and development of the team's skills and knowledge through investment in the latest technologies."