Reliance Precision Named as Top 50 UK SME Apprenticeship Employer 2023 – #4 in the Manufacturing Sector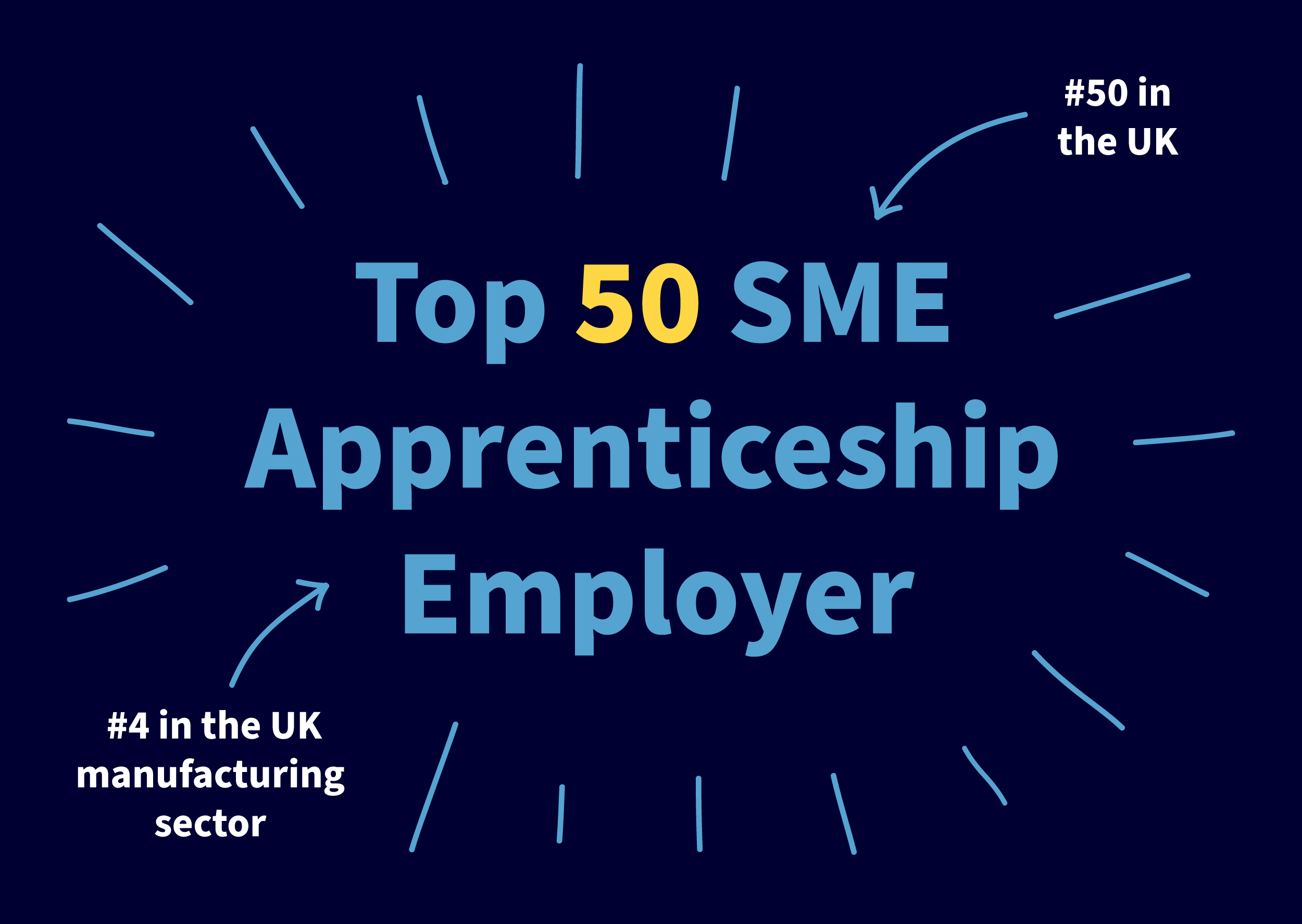 Reliance Precision Limited ('Reliance') is delighted to announce it has been ranked as one of the Top 50 SME Apprenticeship Employers 2023 in the UK. The national league table was first developed in 2020 by the Department of Education, in partnership with High Fliers Research. The SME category was added last year, to give small and medium-sized enterprises the opportunity to be recognised. Reliance ranked at #50 overall and was #4 of apprenticeship employers in the UK manufacturing sector.
The Reliance Precision Apprenticeship Scheme has officially been in operation for 60 years, but apprentices have been a part of Reliance's history as far back as the 1920s. Training has been brought increasingly in-house over the years to ensure apprentices are able to gain the experience and skills they need to meet the exacting tolerances Reliance's customers demand. The company currently aims to take on 4 to 6 individuals each year who, in their first year, are based in the company's EAL recognised training facility which has been accredited by The Institution of Mechanical Engineers (IMechE) and The Institution of Engineering and Technology (IET).
As part of its entry, Reliance was required to provide four pieces of data including:
The total number of apprentices it employed in March 2023.
The number of apprentices that started an apprenticeship from 1st April 2022 to 31st March 2023.
The diversity of these new apprentices.
The number of apprentices that successfully completed apprenticeships during the year and went on to further employment with Reliance.
Rob Farrell, Training School Manager, comments:
"I am thrilled that we have been named as one of the Top 50 SME Apprenticeship Employers. We have put a lot of work into the scheme over the years and we are proud to be one of the leading engineering apprenticeship providers in the Huddersfield area."
Rob began his apprenticeship at Reliance in 1986. His career has been incredibly varied and has seen him work across many departments including Turning, Milling, Prototype and Development, Operations Support and even Health and Safety. He saw an opportunity to pass on the skills and knowledge he had gained during his career when he took over running the apprenticeship scheme in 2017. John Markowycz joined the team in 2019, bringing with him a wealth of experience as an Apprenticeship Programme Assessor.
Rob continues:
"All of our apprentices achieve recognised qualifications, with some going on to complete courses up to degree level after they graduate. The company has always worked to provide interesting and rewarding employment. I personally have continuously developed my skills throughout my career. In recent years I have completed a Level 5 in Management and Leadership and a Level 4 in Teaching and Training. Training the apprentices is a rewarding job, and it's great to be part of their journey as they develop as people and as engineers. As a former Reliance apprentice myself, I always hope that they will go on to enjoy their career at Reliance as much as I have."
Tom Worsley, Technical Director, adds:
"Reliance recognise the importance of investing in apprentice training. As our business grows, so does our apprentice training scheme. We measure the success of our apprentice training scheme by the incredible capability and aptitude of our new engineers. Our commitment and support for developing these young engineers, is reflected in our 100% retention rate after they have completed their training."