Reliance Precision Appoint New Managing Director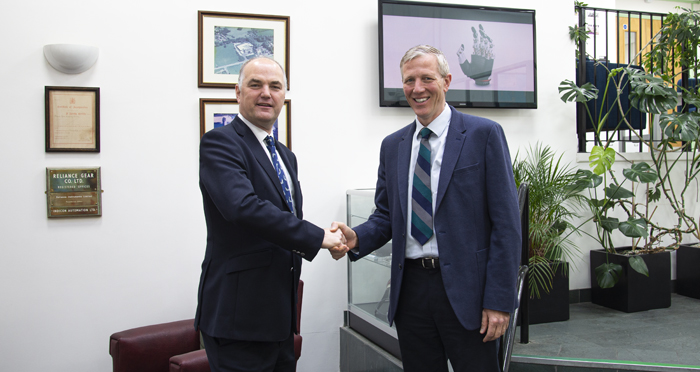 Reliance Precision are pleased to announce the appointment of Steve Woollven as Managing Director. Steve joined the company in April and replaced Andrew Wright.
Andrew, who has served six and a half years at Reliance, is taking the opportunity to accompany his wife on a sabbatical to Shanghai Jiao Tong University as part of her role as Head of Linguistics at Leeds University.
Steve Woollven, comes to the business with a wealth of leadership experience. He was previously Managing Director at Millers Oils, a long established, family owned business, regarded as a highly innovative independent blender of market leading advanced oils and fuel treatments. The organisation supplies into a varied range of sectors including Automotive, Motorsport, Commercial Vehicle and Industrial, providing solutions for some of the world's leading brands. Steve was instrumental in the development of Millers' global export business, identifying potential markets and opportunities, and determining strategies. During his time with the company he was also responsible for overseeing the development and product launch of NANODRIVE, a fully synthetic nanotechnology based oil, which earned Millers Oils its high-end, innovative reputation within the Motorsport sector.
More recently Steve was Managing Director of Hindle Group, a specialist manufacturing business in Bradford. Hindle Group comprises three divisions involved with the manufacture of gears, the remanufacture of large engines, and the manufacture and distribution of industrial and off-highway mechanical cable controls. Steve went into the business to lead both the short and long term strategic direction of the Group. As a strong advocate of the development of people to help an organisation achieve success, he instigated and led a development programme to ensure the vision, values and culture of the group were instilled within its people and the way it operated.
Andrew and Steve have been engaged in a handover process over his last few weeks, ensuring a seamless transition for the company.
Steve explains "When I first visited Reliance I was immediately struck by the culture and the genuine 'people-focus' of the business. I quickly realised that the values and vision Reliance's founder had created to ensure that at the heart of the business remained a focus on the welfare of the employees and the provision of interesting and challenging work, were still true to this day." He continues "I was also very impressed by the engineering work undertaken. Reliance Precision has a unique design and manufacturing capability. The precision and accuracy that can be achieved with such consistency is remarkable across some diverse market sectors, and I am looking forward to continuing this exciting journey as Reliance enters its centenary year in 2020."