Reliance Open New Life Science Assembly Facility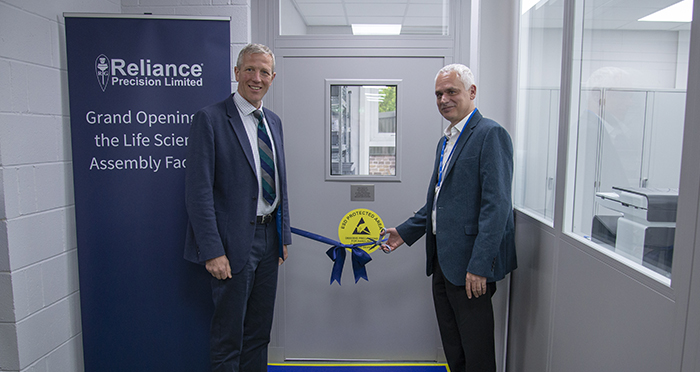 Reliance Precision Ltd (Reliance) are delighted to unveil their new Life Science Assembly Facility, officially opened today by Brooks Life Sciences (Brooks) Vice President & General Manager, Robin Grimwood, and Commercial Operations Director (Strategy), James Craven.
Reliance began working with Brooks, a leading worldwide provider of innovative sample lifecycle management solutions for the Life Sciences industry, in 2016. Working in collaboration with Reliance, Brooks launched the FluidX™ IntelliXcap™ automated capper/decapper system. Its success led Brooks to further expand their product line with the IntelliXcap™ 24 and 48 Cappers/Decappers, with Reliance again providing their manufacturing and assembly expertise. In recent months, Reliance have provided manufacturing and assembly capabilities for Brooks' FluidX™ Aperio™, a semi-automated vial capping and decapping system.
With the increase in volume of systems requiring assembly for Brooks, coupled with the larger scale nature of the instruments, Reliance made the decision to invest in a brand new technical assembly facility at their Huddersfield site, dedicated to the assembly of Life Science products.
During a project status meeting towards the end of last year, Reliance shared their plans for the new assembly facility with the Brooks team. Impressed with what they were intending to do, Brooks agreed to officially open the new area once it was complete.
The new Life Science assembly facility increases Reliance's overall assembly space by 20%. The layout was planned to enable the most efficient flow of work through the stages of: sub assembly, top level assembly, testing and Factory Acceptance Testing (FAT). Full consideration was given to the procedures the Assembly Team needed to adhere to for current programmes, whilst allowing for flexibility to adapt to future requirements of Reliance's Life Science business, including further work from Brooks and other Life Science customers.
Officially cutting the ribbon to unveil the new area at Reliance, Robin Grimwood comments "It is a privilege to open Reliance's new Life Science Assembly Facility, which will provide additional capacity and throughput to support the growth of our IntelliXcap range of capper/decappers. It builds upon the professional industrial design, assembly and manufacturing expertise Reliance has demonstrated to date, and their capability to support new products."