Reliance Ireland Marks 50th Anniversary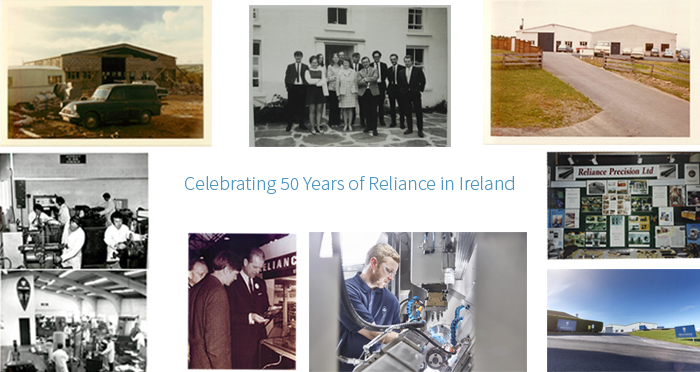 ​2020 marks a key milestone in the history of 'Reliance Precision Ltd ('Reliance')' – 50 years since it established its facility in Ireland, 'Reliance Precision Manufacturing Ltd ('RPMI')'.
The site, in Bandon, Co. Cork, opened in 1970 with just nine employees. It was originally established to manufacture high accuracy, ground measuring racks for the machine tool industry. Reliance's initial investment in the precision machinery required to manufacture and inspect the product to meet the stringent specifications of the market proved successful. In 1974 the size of the facility doubled and the workforce increased to twenty. Business success led to a further expansion in 1983, with capacity once again doubling.
The additional space allowed RPMI the opportunity to broaden the range of products manufactured. In 1999, following a phase of development work, coupling manufacture was introduced to the facility. Recognising that the performance of a machine is only as good as the connections of its shafts, Reliance's range of shaft couplings were carefully designed and tested to provide trouble free operation over many millions of cycles. Reliance's manufactured couplings continue to be made in Bandon.
Soon after, RPMI created the Catalogue Cell. In this area precision cut anti-backlash, spur, hubless and hardened gears were manufactured to suit a wide variety of applications.  This was followed by the introduction of a ceramic grinding process that, using extensive manufacturing and handling expertise to hone, allowed RPMI to achieve the high quality and level of precision required in the ceramics for mass spectrometer analysers.
More recently, RPMI has installed CNC (Computerised Numerical Control) machines to update some of the older machining methods, a move which has served to broaden the businesses capabilities and help support the career development of its workforce.
RPMI currently employs 36 people and operates with the same core principles and values as its sister facility in Huddersfield: innovation, quality, agility, teamwork and integrity. Recognising the need for continual investment in its people, technology and plant, the Ireland facility continues to embark on a programme of growth and development.
Earlier this year it successfully concluded a phase of testing and development on a new CNC Gear Hobbing machine with automation for component loading and unloading. The addition of this machine has enabled RPMI to further strengthen its capabilities and increase productivity of its standard gears with highly precise, highly accurate results. It has also allowed to the introduction of worm and worm wheel production to the product range.
A third Nakamura CNC lathe has also been introduced into production, purchased to increase the standardisation of tooling and programming. Also added into production has been a Vici Vision measuring machine for high accuracy lead screw measurement, alongside a Zeiss measuring machine to align RPMI's precision measurement with the Huddersfield site.
Investment plans for 2021 and beyond include five axis milling and a move to a paperless production system with live data capture, resulting in the ability to collect more and immediate data to fine tune and control the manufacturing process. There are also plans to explore options to further increase the manufacturing space and staff facilities.
Charlotte Brandes, RPMI Director, comments "I do not underestimate the challenges of sustaining a business for the long term. Achieving 50 years is a testament to everyone involved over that time and it is exciting to see the developments that are happening now to take RPMI forwards another 50 years."