Reliance Host Ministerial Visit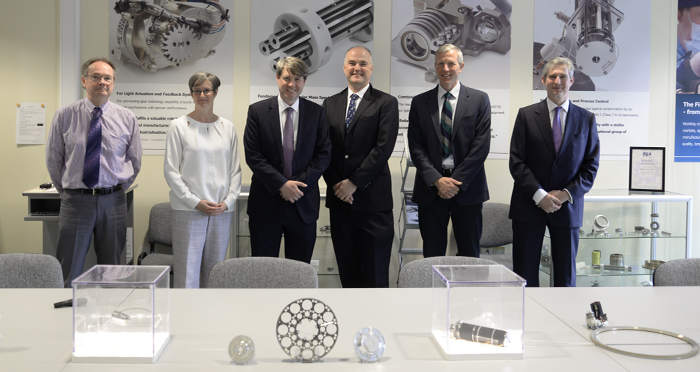 Reliance were delighted to receive a visit from Chris Skidmore, Minister for Universities, Science, Research and Innovation, at their Huddersfield site last week.
Chris Skidmore, who was appointed as a Minister of State jointly at the Department for Education and the Department for Business, Energy and Industrial Strategy at the end of last year, has responsibilities including universities and higher education reform, as well as science and research, innovation, space and technology.
Mr Skidmore met with James Selka, one of Reliance's family owners and non-exec director, and Andrew Wright, Managing Director. They provided Mr Skidmore with an overview of the company's 60-year history providing custom-built, high reliability, precision instrumentation and its plans for the future as the company approaches its centenary in 2020. Ian Laidler, Reliance's Technical Director, and Kathryn Hullah, Space Business Manager, demonstrated motor gearbox products designed and manufactured by Reliance for use in space, together with space gears, including one from the solar array drive mechanism on the Rosetta satellite, which delivered the probe to comet 67P in 2014. This was followed by a discussion on recent ESA, UK Space Agency and InnovateUK supported projects, not only for space but for Reliance's ground breaking work in additive layer manufacturing.
The visit concluded with a tour of the site, enabling Mr Skidmore to see Reliance's design and manufacturing facilities for Space, Aerospace & Defence, Scientific Instruments and Life Sciences, and meet some of the team involved.
Andrew Wright comments "It was genuinely encouraging to have the Minister for such key topics as science and research and innovation engaging with manufacturing.  It was an important opportunity to highlight the role of industrialisation in the science sector. Reliance is becoming established in the Space sector, and we were able to illustrate first-hand the innovation and knowledge being developed in UK manufacturing and how strong engineering engagement with the science community and the European Space industry will underpin commercial success and longevity for Reliance and UK plc. We were particularly pleased to hear that the Minister plans to continue strong support for the space sector."