Reliance Host Apprenticeship Open Evening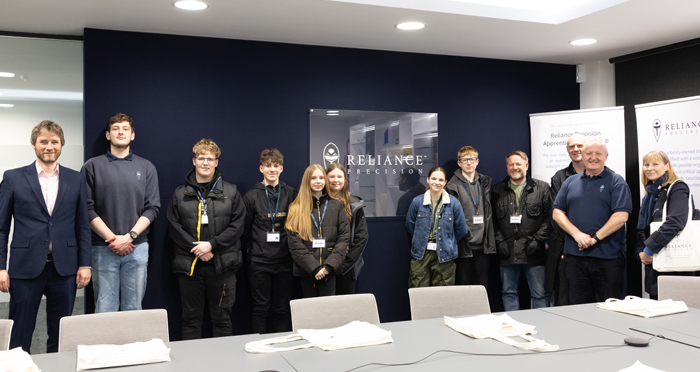 Reliance Precision Limited ('Reliance') hosted an open evening last night to showcase its engineering apprenticeship scheme. This was one of the events the company has held this week to celebrate National Apprenticeship Week.
The evening was designed specifically for young people with an interest in engineering and was attended by a number of army cadets from the local area. It began with a presentation given by Tom Worsley, Reliance's Technical Director, and Rob Farrell, Training School Team Leader. They provided an overview of the company's 100-year history and capabilities in the design and manufacture of high precision engineering solutions. They also outlined the Reliance Precision Apprenticeship Scheme, which has been in operation for over 60 years. The four-year programme is designed to teach individuals all the skills they require to begin their engineering career. From hands-on training in Reliance's accredited training facility, to learning directly from the experts around the business, apprentices gain recognised qualifications alongside practical hands-on learning.
Following the presentation, the visitors were taken on a tour so they could see Reliance's manufacturing facilities first hand. It was also an opportunity to really understand the precise nature of the products manufactured on site.
Tom comments: "At Reliance we recognise that the technology of tomorrow will be built by the young people of today. We understand the value in training young people, and we continually invest in apprentice training to build a secure future for our business. We don't just train our apprentices in advanced manufacturing processes; we also provide an academic education, we teach critical thinking skills, and we empower our apprentices with the personal agency to go out and change the world. Open evenings, like today, are tremendously important to show potential recruits the opportunity to become a Reliance apprentice engineer. We were really pleased to see an interest from army cadets, as it was a great opportunity to connect to a group of people with valuable transferrable skills."
The application process for Reliance's 2023 apprentice intake is now open. For more information visit reliance.co.uk/apprenticeship-scheme. The closing date for applications is 17 March 2023.