Reliance Exhibit for First Time at Advanced Engineering Show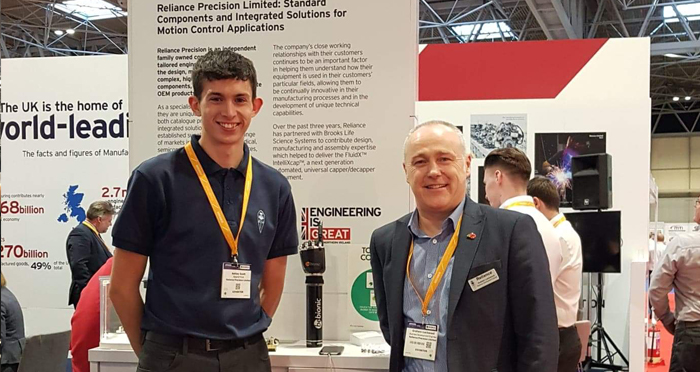 Reliance exhibited their high precision engineering solutions at last week's Advanced Engineering Show at the NEC, Birmingham. The first time they have exhibited at this event.
Celebrating its 10th Anniversary this year, Advanced Engineering is the UK's largest annual gathering of manufacturing OEMs and supply chain partners wanting to see the latest technologies and solutions. With Showzones this year covering Aero Engineering, Automotive Engineering, Composites Engineering, Connected Manufacturing, Performance Metals Engineering and Nuclear Engineering, the event provided Reliance the unusual opportunity to showcase its full range of precision engineering solutions. Instead of promoting a specific area of the business, Reliance were able to showcase its diverse range of technologies including gears & geared systems, opto-mechanical assemblies, clean & high vacuum assemblies, life science solutions, as well as its standard range of precise motion control components and integrated sub-assemblies.
Taking advantage of ERDF (European Regional Development Funding) Export for Growth Funding, Reliance exhibited as part of the Department for International Trade (DIT) UK Pavilion. One of eighteen companies in the Pavilion, they received a fully branded exhibition area to demonstrate their Technologies, as well as the opportunity to attend meetings, seminars and network with new contacts.
Attending the Show for Reliance were Graham Lockwood, Technical Sales Engineer, Jackie Naylor, New Business Development and final year Apprentice Ashley Scott, who demonstrated two key products:
An XY staging unit showing the high accuracy positioning and repeatability of the Reliance Linear Miniature Actuator. With its low profile footprint, standard units are available in only two weeks, making it ideal for use in prototype design and development.
A robotic hand, explaining how Reliance's actuation technology has helped model the natural movement of the hand in a new generation of prosthetics.
Graham comments "Being part of the UK Pavilion proved to be very beneficial. Advanced Engineering is a huge Show and the UK Pavilion was one of the busiest areas, so consequently we had lots of visitors to the stand. Both the XY staging unit and the robotic hand received a lot of positive interest and we generated a good number of leads spanning all areas of the business over the course of the two days. On the last day we were delighted to have a visit from Graham Stuart, Minister for Investment at the Department for International Trade. He came onto the stand and chatted with Ashley about Reliance's Apprenticeship Scheme and the future of the British engineering industry."
For more information and dates for Advanced Engineering 2019 click here