Reliance Exhibit at SLAS Europe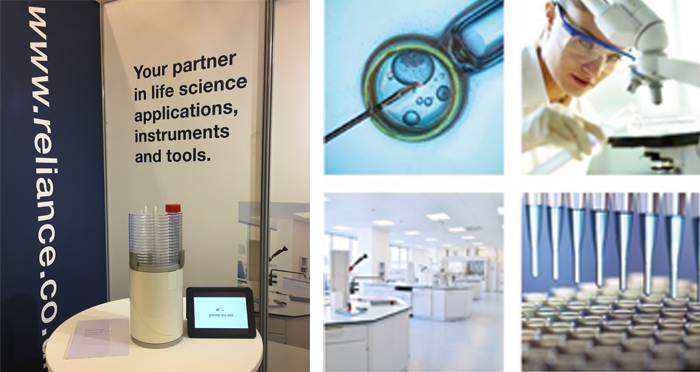 It has been a busy June for Reliance's Life Sciences team. After returning from the BIO International Convention in Boston, the team headed out to Brussels to participate in the 2018 SLAS Europe Conference and Exhibition.
The event was held 27-29 June in Brussels Square Meeting Centre, bringing together almost 1,000 academic, industrial and pharmaceutical scientists from the European Life Sciences Discovery and Technology community. This was the first SLAS pan-European meeting, designed to provide a platform for attendees to interact with top experts, learn valuable skills, and get updates on the latest trends, best practices and technology advancements in Laboratory Automation.
As well as Reliance having a stand at SLAS, Stephen Guy, their Head of Life Sciences, gave a brief snapshot presentation at the conference. Following a number of industry leading speakers discussing 'Bringing Biology and Technology Together to Enable the Early Discovery Pipeline', Stephen presented an overview of CELLswing™. He explained how Reliance's expertise and technology, collaborating with Greiner Bio One, helped to develop the automated manipulator which gently moves and rotates a CELLdisc™, for the repeatable manipulation of samples in cell culture. It clearly proved to be an interesting topic, as it resulted in a number of people visiting the exhibition stand to talk about the technology and discuss similar applications.
On the exhibition stand to answer their questions and demonstrate the instrument's function were Dr Ruth Brown – Business Manager, Jackie Naylor – New Business Development, and Tom Broom – Sales Engineer.
Dr Ruth Brown comments "SLAS Europe was a good event for us. The audience is very focused and we had the opportunity to meet senior decision makers from some of the top companies in the industry. The leads we obtained are of good quality, with some very interesting and relevant applications for consideration as to how our bespoke, automation solutions can help make improvements. During the Show I was also able to attend a workshop titled 'A Microfluidics Workflow for Sample Preparation for Next-Generation DNA Sequencing'. It provided a really interesting insight into two leading methods for Next-Generation Sequencing (NGS), highlighting the key challenges faced with microfluidics when trying to automate these workflows and discussed possible technology solutions for future applications."
Once again Reliance were able to take advantage of ERDF (European Regional Development Fund) Export for Growth funding, facilitated by their Medilink membership, to contribute towards the cost of exhibiting. Jackie Naylor, who works very closely with Medilink adds "ERDF funding provides the opportunity for us to participate in Life Sciences events such as this for the first time, and SLAS has been a good Show for us. We generated a lot of interest in our products, not just on CELLswing™ following Stephen's presentation, but the robotic hand, demonstrating our actuation technology in a new generation of prosthetics."