Reliance Exhibit at DSEI 2021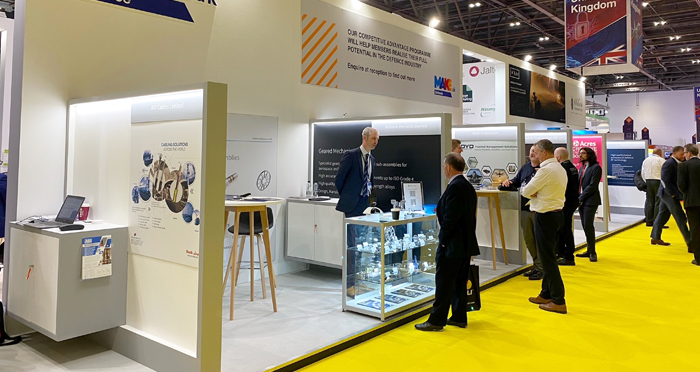 Reliance Precision Limited ('Reliance') have returned from exhibiting at their first live event in over 18 months – the Defence and Security Equipment International ('DSEI' 2021) Show at the ExCel Centre in London Docklands.
The event, held every two years in the UK, aims to connect governments, national armed forces, industry thought leaders and the entire defence and security supply chain on a global scale. With specific exhibition zones this year for Aerospace, Land, Naval and Security, the organisers were looking for attendees to strengthen relationships, share knowledge and engage in the latest capabilities.
Reliance, once again, took the opportunity to have their stand within the Make UK Defence exhibition area. Make UK Defence is a national not-for-profit, member owned defence trade association which is part of Make UK – the manufacturers' organisation. Make UK Defence champion and support the UK's innovative and diverse defence manufacturers and the wider defence supply chain.
On their stand Reliance displayed a range of high precision engineered products including gears, gearboxes and electro-mechanical sub-assemblies, all of which received attention from a steady, but constant stream of visitors for the duration of the show. Conversations ranged from general interest on the exhibited parts through to requests for quotation and design engagement, one of which has already been gaining traction.
Reliance also received a visit from the Defence Committee, a Select Committee appointed by the House of Commons to oversee the operations of the Ministry of Defence and its associated public bodies. The Committee were on an escorted visit to the Make UK Defence exhibition area which gave Reliance the opportunity to speak directly with them about the business and its opportunities and challenges.
With the show being in the UK, it allowed a number of the Reliance team to attend over the four days. Having the opportunity to speak to a diverse audience including senior technical contacts not just from within the manufacturing industry but from within the British Navy and Armed Forces were: Nathan Bowers, Key Account Manager, Aerospace Defence & Space; Graham Lockwood, Business Development Engineer; Emma Price, Key Account Manager – Aerospace Defence & Space; Alex Agar, Continuous Improvement Engineer; and Tom Worsley, Technical Director.
Nathan comments "It was great to be out meeting people face-to-face again. As always, DSEI enabled us to catch up with our existing customer base as well as introduce our range of high accuracy components and assemblies to new contacts. We also had the opportunity to gain informative market intelligence as well as hear from different businesses on how the previous 18 months has impacted them and how they see the industry developing." He continues "It was reassuring to hear such positive comments on the quality and workmanship of our manufactured parts, as well as the importance such highly precise engineered components play in the Defence Aerospace market. I think DSEI 2023 will definitely be in the Reliance calendar!"