Reliance Exhibit at Diverse Range of Engineering Shows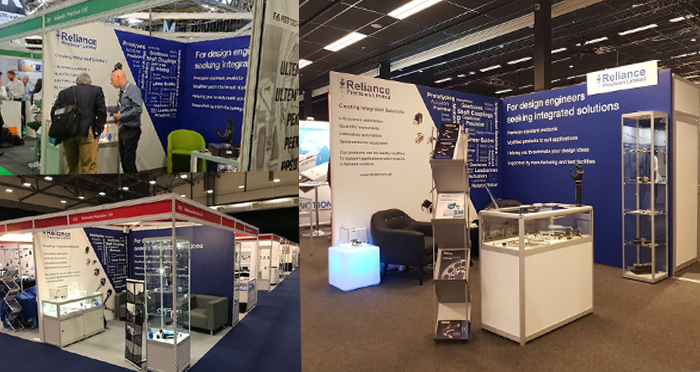 It's been a busy end to 2018 for Reliance's Catalogue team, exhibiting at a succession of Engineering Shows.
It started in September with the TCT Show at the NEC in Birmingham. TCT is a world-leading design-to-manufacturing event which delivers insights on 3D printing, additive manufacturing, CAD/CAE, metrology and inspection as well as conventional manufacturing processes such as moulding, casting and CNC machining. Over 10,000 professionals from 60 countries were in attendance.
TCT was quickly followed by Photonex Europe at the Ricoh Arena in Coventry. Bringing together the whole photonics industry supply chain of suppliers, consultants, industry users, researchers and science groups, a wide range of photonics and light technology applications were discussed.
Finally, in November, the team travelled to the NH Conference Centre Koningshof in Veldhoven, The Netherlands. Here they exhibited at Precision Fair, an annual event in the Precision Technology calendar. The Show, now in its 18th year, provides attendees access to all the knowledge and expertise required to design, produce and assemble at the highest level and according to the highest quality requirements.
At all three shows Reliance demonstrated their XY staging unit, showing the high accuracy positioning and repeatability of the Linear Miniature Actuator, alongside a robotic hand illustrating how Reliance's actuation technology has helped model the natural movement of the hand in a new generation of prosthetics.
Graham Lockwood, Reliance's Technical Sales Engineer, who attended all three shows comments "It's been a busy few months of exhibiting for the team, but the response from all the shows has been very positive. Over the course of the three months we've met new prospects, gained access to new contacts within existing customer businesses and discussed the use of our standard products in higher level integrated sub-assemblies across a really broad variety of applications and industries. We've already undertaken site visits as a result of the enquiries we received, and a number of proposals are now underway and issued."