Reliance Exhibit at Analytica 2018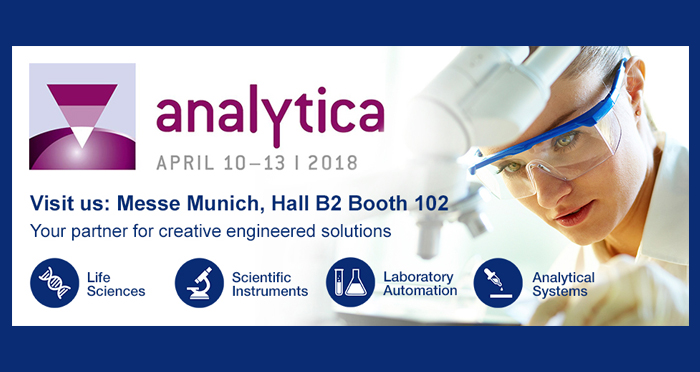 Reliance will be exhibiting in Hall B2, Stand No. 102 at Analytica 2018, which is being held 10th – 13th April in Munich, Germany.
Analytica is a major International Trade Fair for Laboratory Technology, Analysis and Biotechnology. Held every two years, it combines all aspects of modern analysis employed in industry and research. This year over 11,700 leading manufacturers from 45 countries are planning to take part.
Reliance's Business Manager for the Scientific, Analytical & Medical sectors, Jerry Coffey, explains "Exhibiting at Analytica 2018 enables us to actively promote our specialist design, manufacture and test capabilities for Scientific, Analytical and Life Science Instruments and tools. It will allow us to demonstrate our products, and provide insight into how we apply our expertise and engineering capabilities to help our customers bring innovative Scientific and Life Science products to market."
Reliance will be displaying a selection of project examples at the Show including:
Quadrupole mass filter based vacuum assembly used in an instrument analysing volatile organic compounds with typical detection limits at parts-per-trillion level
Real-Time PCR instruments, for highly sensitive, rapid and efficient nucleic acid detection
A Reliance developed instrument for the repeatable manipulation of samples in cell culture and bioprocessing
Laboratory automation for use in High Throughput Screening
Dr Ruth Brown, Reliance's Life Sciences Business Manager comments "Analytica provides an opportunity to network with market leaders and global businesses within key industries for Reliance. We are looking forward to increasing our exposure, and engaging with existing and prospective customers on the challenges they face, both now and in the future. Insight which will enable us to tailor our future investment in capability to satisfy these developing market needs." She adds "We're also hoping to be able to explore other potential applications for Reliance's technology, for example the use of quadrupole mass filters (a critical sub assembly in mass spectrometers) in clinical applications such as metabolomics and proteomics."