Reliance Employees take on National Three Peaks Challenge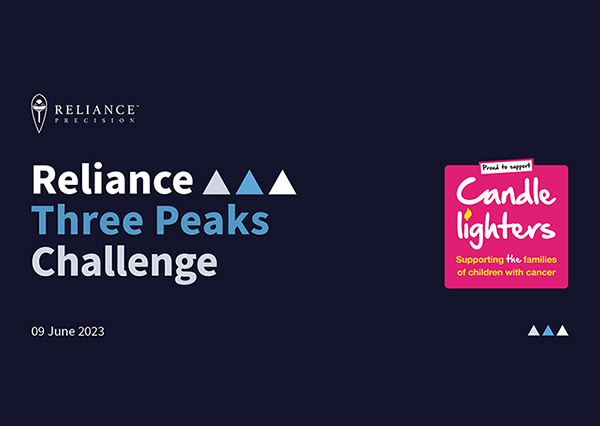 On the 9th of June 2023, eleven Reliance Precision Limited ('Reliance') employees will be taking on the National Three Peaks Challenge to raise money for children's cancer charity Candlelighters.
The National Three Peaks Challenge involves walking the highest mountains in Scotland, England and Wales within twenty-four hours. Candlelighters is a charity bringing light and hope to families facing childhood cancer across Yorkshire, providing emotional, practical and financial support from diagnosis and for as long as is needed, as well as funding research into childhood cancers.
Ashley Scott, Manufacturing Engineer, pitched the idea to the company and has organised the event. He comments:
"The National Three Peaks is something I've always wanted to do, and I thought it would be a good idea to do it on a bigger scale, to raise money for charity. The Leadership Team at Reliance kindly agreed to support the event. So many people wanted to be involved that we ended up choosing names out of a hat! Candlelighters is a fantastic charity that has touched the lives of people at Reliance and we're all looking forward to the event. We'll try our best to complete the challenge within the twenty-four-hour timeframe, but our real goal is to raise as much money as possible for Candlelighters. Thank you to everyone who has donated so far – let's hope we can reach our target."
The challenge will see nine members of the team (Ashley, Ben, Joe, Matthew, Becky, Adam, Chris, Jimmy and Ryan) walk a total distance of 23 miles up Ben Nevis, Scafell Pike and Snowdon (Yr Wyddfa). Two designated drivers (John and Mick) will not complete the walk but will instead have the important job of driving the team a total distance of 462 miles over the course of the event.
Ian Walter, Group Finance Director, comments:
"We are delighted to be supporting this event and raising money for such an important local charity.  It has been great to see the enthusiasm across the team as they start their planning and training, as well as the interest from the wider business.  From personal experience, it is a tough but incredibly rewarding challenge!  We wish them every success with it, and with their fundraising for Candlelighters."
Iain Blackwood-Hobbs, Partnerships Executive at Candlelighters said:
"We're thrilled that the team at Reliance Precision are supporting Candlelighters. The money they raise will make a huge difference to children affected by childhood cancer and their families. We can't thank them enough and wish them lots of luck with their challenge."
The Reliance team has set their fundraising target at £5000. Donations can be made via their JustGiving page: https://www.justgiving.com/page/reliance-3-peaks