Reliance Employees Gain Chartered Status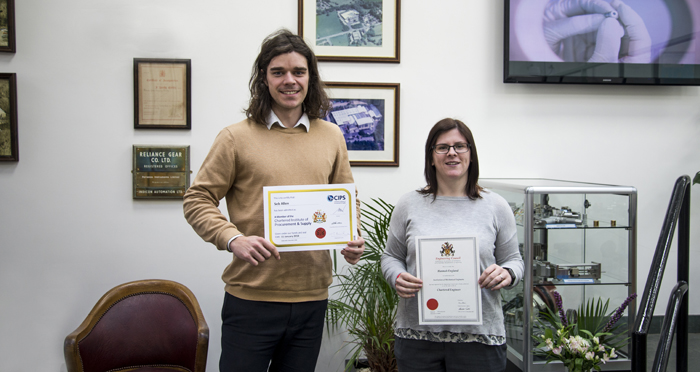 Reliance congratulates employees on achieving Chartered status in their respective professions. Hannah England, Mechanical Engineer, has achieved her CEng (Chartered Engineer) status with the IMechE (Institute of Mechanical Engineers) and Seb Allen, Senior Buyer, has gained his MCIPS (Member of the Chartered Institute of Procurement & Supply).
Hannah decided to study for her CEng after completing a Masters Degree in Mechanical Engineering, acknowledging that an internationally recognised qualification could be a great asset to her future career. Engineers aiming for Chartered status are required to develop answers to engineering problems using new or existing technologies in creative and innovative ways, through the promotion of advanced designs and methods, developing more efficient production techniques and pioneering engineering services.
Hannah worked towards the accreditation through the IMechE MPDS (Monitored Professional Development Scheme), a structured programme which facilitates developing engineers in reaching the competence requirements. The mandatory reporting for MPDS includes four quarterly reports and an annual assessment for each year on the scheme. The process culminates in a professional review interview with Chartered Engineers to determine whether the required standards to qualify have been met.
Hannah explains "The MPDS process helps to develop skills in areas that you may not have the opportunity to do so in your normal day to day environment. Working towards Chartered status over the last three and a half years has helped me to broaden my knowledge and learn new skills which I can apply to my work at Reliance. Hopefully I'll continue to develop this knowledge and experience to further progress my career."
The MCIPS (Member of the Chartered Institute of Procurement and Supply) Seb has achieved is one of the most prestigious a professional purchaser can earn. He studied via classroom-based and distance learning over a three year period, undertaking quarterly exams over the course of this time. Modules included project & programme management, business & procurement strategy, and the legal aspects of procurement and supply, as well as skill development in areas such as negotiation techniques, issues relating to procurement sustainability and supplier financial analysis.
Seb explains "I enjoy learning and studying and had missed it since finishing university. Not many people I have met in the purchasing environment have the MCIPS qualification, so I thought it a good opportunity to achieve something highly regarded in my field which would make me stand out." He continues "I would like to thank Reliance who have been very supportive in allowing me time to study. Achieving MCIPS status has given me more confidence in my role, and I'm now applying the knowledge I've gained into our procurement process."
Proud of the achievements of his team, Ken Jolley, Reliance's Head of Operations, comments "Reliance is keen to support all its employees who wish to secure professional qualifications. Often it is the route to gain these qualifications, rather than the end result, which delivers the most business benefits. I have seen demonstrable changes in performance throughout the accreditation process as candidates go through rigorous assessments to achieve their goals. And, in the above cases, both CEng and MCIPS status validates the employee's professional credibility to customers and suppliers alike."