Reliance Employees Achieve MBA Success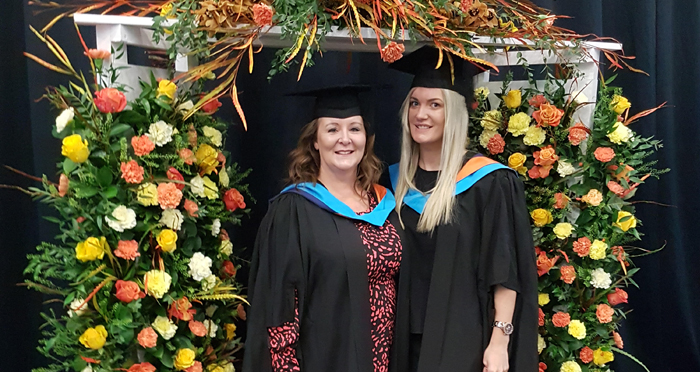 Reliance Precision Limited ('Reliance') would like to congratulate two of its employees who have recently graduated from the University of Huddersfield with Master of Business Administration (MBA) qualifications.
Sharon Lysiak and Beverley Stott, both Operational Account Managers in different business teams, completed the two-year part-time course this summer. The MBA is a world recognised, leading management qualification designed for students who are experienced managers, looking to add theoretical and academic credibility to their work. It aims for them to develop a strategic and global management perspective as well as improve their communication skills. The part time course sees students attend university one day a week, studying a total of 11 modules including: Managing People in Organisations, Contemporary Strategic Thinking, Finance for Managers, Business Economics, Leadership and Services Marketing & Operations.
Sharon Lysiak, who works in the Aerospace and Defence business team, celebrated 30 years employment at Reliance earlier this year. Originally an Office Assistant, Sharon progressed to Operations Manager for the Catalogue (Standard Products) team before moving into her current role. Having already gained her Certificate in Management Studies, Sharon was part way through studying for the Diploma when, keen to challenge and push herself further, she decided to continue and study the MBA. She comments "Working a four and a half day week at Reliance and then attending a day of lectures, plus study time on top for assignments and my dissertation, meant I had to be very focused and organised. I thoroughly enjoyed it, even though it was hard work, and now it is all over I do miss the studying." She adds "I am very grateful to Reliance for giving me the opportunity to undertake the MBA and for the support they have provided, both financially and emotionally. I have learnt an incredible amount over the last two years, not just academically, but also about myself. It has definitely impacted on the way I handle myself in business situations."
By contrast, Beverley Stott, who works in the Scientific team, has been at Reliance for two and a half years. When she joined the company, she already held a Certificate in Management Studies, and within a few months of starting, Reliance agreed to support her to study the MBA. Beverley comments "I really enjoy the challenge of learning and was keen to further develop my knowledge and potentially my role at Reliance. I was delighted when they agreed to support me on the MBA. The whole course was very interesting, but I particularly enjoyed the strategic management and strategic thinking elements and how they link to business. I met some really interesting fellow students and it was fascinating to gain insights and different perspectives on how other businesses and industries operate."
Since completing her MBA, Beverley already has a number of new opportunities at Reliance. She now provides account management support to some Life Science customers, as well as leading Continual Improvement projects and is part of the Internal Auditing Team. She continues "I have to admit I am missing the studying. Whilst I am enjoying a bit of spare time right now, I definitely would not rule out considering further study. Reliance is a fast-paced working environment, constantly looking to continual improvement initiatives to keep up with changing technology and work methods, so I am keen to ensure I keep learning and developing alongside it."
Reliance's Head of Compliance, Jon Plascott, explains "It is important in any business to ensure that employees are continually trained throughout their working life. This ensures they are developing to meet the needs of the business and have the opportunity to take on more interesting and challenging roles.   What is special about the MBA is that it gives the individual a wider understanding of business processes and a valuable insight into the context of their own role within these."