Reliance Complete Innovative Space Project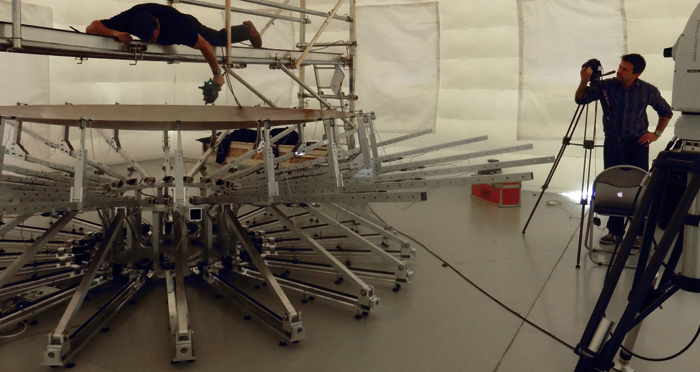 Reliance have recently completed a project in support of Oxford Space Systems (OSS) following a co-funding award from the National Aerospace Technology Exploitation Programme (NATEP).
Oxford Space Systems, a venture capital space technology business, is developing a new generation of deployable structures for the global satellite industry. They chose Reliance to partner them on their project to design and develop a novel reflector surface for attachment to their scalable large deployable antenna (LDA) structure.
The two companies originally met when Reliance were undertaking initial investigations into expanding their terrestrial Aerospace business in geared systems into the Space sector. Both companies had successfully secured funding from an Innovate UK competition and through contact at the various competition presentation days, a relationship was established.
As well as their association through the Innovate UK funding competition, both companies were founding members of the UK Space Mechanisms Working Group. The Group was established to increase the UK's global market share of mechanisms and deployable structures for space applications, and Reliance chaired between 2013 and 2015.
Over the course of their relationship, it became clear there was a complementary fit between the two companies: the innovative designs and technologies developed by OSS coupled with the precision engineering expertise of Reliance to turn these ideas into a finalised design that could be accurately manufactured to a high specification.
Consequently it was Reliance that OSS turned to when they required a partner for their LDA project. A successful joint application for funding was made to NATEP, a £40m development programme set up by the Government to fund the development of innovative technologies for new products or manufacturing processes, and ones which create and safeguard jobs within the UK aerospace supply chain.
Reliance's role in the project was to develop a deployment rig and associated control software that OSS could attach their reflector skins to for testing. OSS had already created an innovative concertina style LDA structure, that once deployed into space could unfurl and the skin be attached to it. Reliance's brief was to take this initial concept and produce a ground-based version of a rig that would work effectively under rigorous test conditions. OSS needed the rig to withstand use as a real workhorse, enabling them to test different reflector materials at different shapes and sizes, meaning in reality, it needed to be much more robust and heavier than the typical rigs deployed into space.
OSS came to Reliance with an initial set of requirements for the rig and the two companies worked together to finalise the design. Reliance then turned this into a mechanically engineered solution which was subsequently manufactured to exacting standards in Reliance's production facility.
Oxford Space Systems Founder and CEO, Mike Lawton, explains "OSS selected Reliance as a development partner due to their track record of delivery, technical expertise and a willingness to undertake the challenge of a completely new design. We have been impressed by the professionalism and dedication of the Reliance team in building and commissioning the large & complex test rig we needed."
The project has been completed successfully with the performance of both the rig and reflector skins exceeding the expectations of the project team. As a result the relationship between Reliance and OSS is continuing, and talks are already underway on future projects.
Ian Laidler, Reliance's Technical Director, comments "We are proud to be involved in new innovative technologies and to partner with leading-edge technology businesses in the new and emerging UK Space industry. We recognise we can play a key role in bringing together innovation and industrialisation with our high precision engineering and manufacturing capabilities."