Reliance Attend Local Apprenticeship Event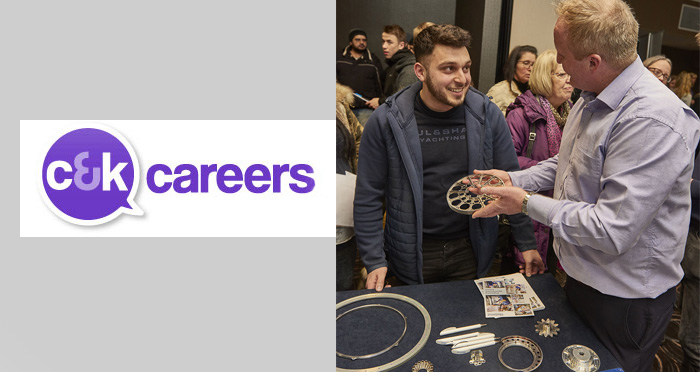 Reliance were delighted to attend February's Kirklees Apprenticeship Event to promote their Engineering Apprenticeship Scheme. For sixty years Reliance have offered a scheme to support young engineers starting their careers. Each year they recruit six individuals to the scheme and the recruitment drive is currently underway to attract candidates for this year's intake.
The annual event, organised jointly by C&K Careers, a local careers service, and Kirklees Council, provides young people aged 15-19 years, and their parents, the opportunity to talk to local employers and training providers to find out more about Apprenticeships. February's event, held at the John Smith's Stadium in Huddersfield, attracted over 1,100 visitors, with around 50 businesses promoting their Apprenticeship opportunities.
Attending the event for Reliance were Robert Farrell, Health & Safety Officer, and Richard Walley, Apprentice Training Manager. Both play key roles in the recruitment of individuals to the Engineering Apprenticeship Scheme and their ongoing mentoring and development thereafter. Knowing the importance of having their Apprentices attend events like these to relay first hand their experiences, they were accompanied by Andrew Mannion and Eliot Cleversley, two of Reliance's second year Apprentices.
Robert comments "We are constantly striving to attract the best of the local talent to our Apprenticeship scheme and this event is key in helping facilitate that. The number of attendees this year was very high. The quality of the young people attending was very good too and we received a lot of interest from both them and their parents. I have already hosted a number of visits to Reliance from interested candidates at the event. We like to offer them the opportunity to visit the company, along with their parents, to see the manufacturing facility and Apprentice Training Area in operation before they decide to apply. The Apprenticeship Scheme has a thorough and rigorous application process to ensure we recruit the right people, and these visits provide candidates with a good insight into the business and the Scheme, as well as reassuring parents."