Reliance Apprentices Take Part in Nanosat Design Competition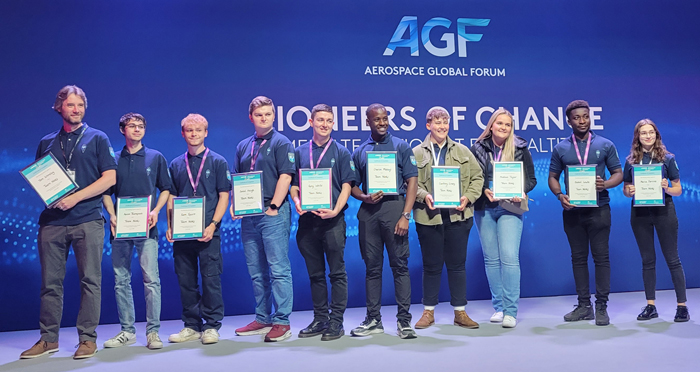 A team of third- and fourth-year apprentices from Reliance Precision Limited 'Reliance' attended the The LaunchUK Nanosat design competition awards ceremony at Farnborough International Airshow last Friday. While they were not successful in winning, the apprentices (competing as Team NORI) were still in high spirits and pleased to have taken part.
The competition was designed to get young people interested in space and was timed to coincide with the development of new UK spaceports. As part of their entry, the team proposed the idea of a nanosat that would use hyperspectral imaging to monitor seaweed found off the coast of the UK. In order to progress to final judging, Team NORI were required to prepare a Preliminary Design Review. This included:
A preliminary design of the selected concept and technical solutions against project and system requirements.
Final management, engineering, and product assurance plans.
A product tree, work breakdown structure, and specification tree.
A verification plan (including model philosophy).
Maria Perrins, Mission Design Engineer (and third-year apprentice) said: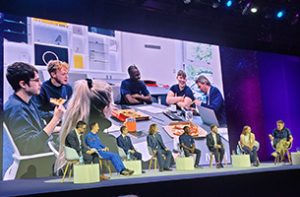 "Being part of this competition has been a fantastic experience. It has taught me so much about the processes that are involved in creating a product that will be sent into space. There are many space-specific requirements and legislations that have been carefully considered in order to develop the preliminary design of the nanosat. It has been extremely insightful to learn about these and it has been fantastic to learn from industry professionals. I have thoroughly enjoyed working as part of Team NORI; it has been great to work together and progress the development of the nanosat."
Tom Worsley, Mission Manager (and Technical Director at Reliance) added:
"The team have done an excellent job and I am incredibly proud of what they have achieved. This was a national level competition, and Team NORI were the only apprentice team to be shortlisted from over 40 other entries, and that in itself is something they can be proud of.
The competition has been an invaluable experience for our apprentice engineers and has given them the opportunity to see what goes into preparing a preliminary design review for a space application. It has given them a foundation of knowledge that will benefit them in the future when they are involved with commercial space projects at Reliance.
The growing UK Space industry requires a pipeline of talented young people with the operational skills necessary to support a high-tech manufacturing economy. We need highly skilled space assembly engineers, machinists, and test engineers, just as much as we need rocket scientists and system engineers.   The LaunchUK Nanosat design competition has really brought focus onto these young engineers, and it has been incredibly successful in positioning our young talent on a global stage. After all, what other forum could possibly put Paul Bate (CEO UK Space Agency), Matthias Maurer (Astronaut – European Space Agency) and Charles Mukoyi (Apprentice Engineer) onto the same stage to engage in an open discussion about skills and development? It's been an amazing achievement for all involved"
For more information about the NORI Mission, please visit www.teamnori.space