Reliance Apprentice Wins College Awards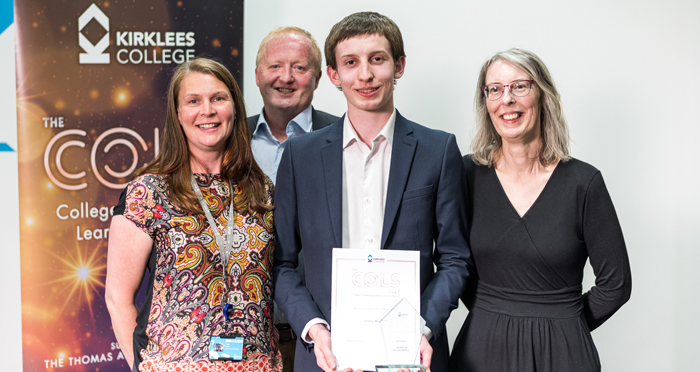 ​Reliance Precision Limited's ('Reliance') second year apprentice, Joshua McDowell, receives a College Outstanding Learner Success (COLS) Award from Kirklees College, and wins overall Apprentice of the Year prize.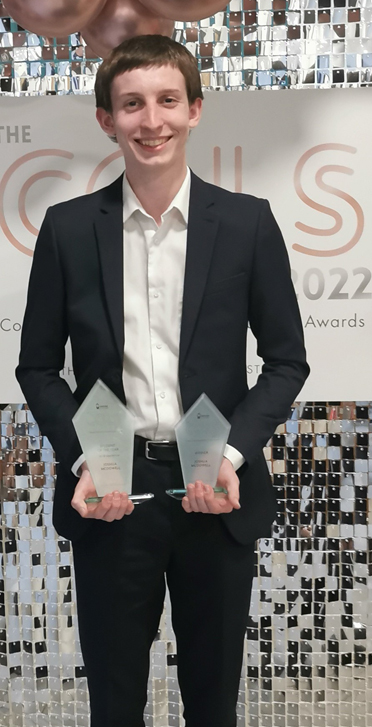 Joshua was presented with his Engineering Apprentice COLS Award at a ceremony at the Waterfront Centre in Huddersfield last week. Each year, students from all the Kirklees College centres are nominated in recognition of their achievements throughout the year. Nominations are based not only on academic performance but also on contribution to college life as well as personal qualities. At the end of the ceremony the overall category winners are announced, and a very delighted Joshua learnt he was the winner of the Apprentice of the Year (16-18 year) Award.
Joshua is currently studying his EAL Level 3 Diploma in Advanced Manufacturing Engineering at the College. Attending one day a week, the course supports his practical, on-the-job apprentice training at Reliance. His nomination application described him as a very well respected, trusted and mature individual who applies diligence and integrity to everything he does. Joshua has continuously excelled across all subjects during his college attendance, regularly achieving distinctions, with his tutors noting him being thoroughly engaged, outstanding in his approach and going the 'extra mile' in the classroom environment. One commented "Joshua's calm, introvertive persona is an admirable example of how fortitude and excellence can be achieved quietly, modestly and with humility". His immaculate attention to detail, and ability to focus completely on whatever task he is working on is consistently yielding successful outcomes in both the workplace and college environment.
Unaware that he had even been nominated, Joshua was full of surprise upon learning he had been chosen as a recipient of the award. He explains "I was aware of the COLS awards from last year when apprentice Courtney Livsey won but receiving one myself was completely unexpected. I feel very proud to have achieved this and for the reasons I was nominated." He continues "To then win the overall Apprentice of the Year was absolutely amazing. It's still sinking in just what I've achieved!"
Rob Farrell, Reliance's Training Cell Team Leader, comments "On behalf of everyone at Reliance, I would like to congratulate Joshua on receiving one of the coveted Kirklees College COLS Awards and for his fantastic win of Apprentice of the Year. It really came as no surprise to me. I have been aware of all his hard work and efforts during his apprenticeship. His willingness to support others and the high quality of his work are very encouraging traits to have at such a young age. We look forward to watching him progress through his apprenticeship and into his future career at Reliance."
Photo credit: Kirklees College