Reliance Apprentice Receives Outstanding Achievement Award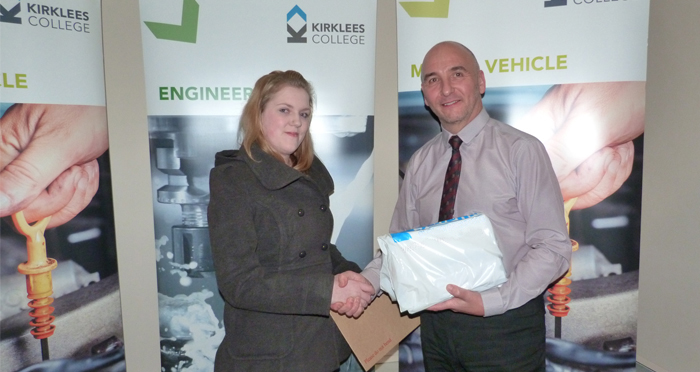 Megan Lunn, a third year mechanical engineering apprentice at Reliance Precision, has been awarded The Severn Unival Most Outstanding Achievement Award by Kirklees College, in recognition of exceptional performance.
Megan, who is working towards an Advanced Apprenticeship, has achieved the highest possible grade on her course. All her tutors agreed that this was a significant accomplishment and commented: "Megan has achieved the highest grade of Distinction in all twelve units over her 2 year BTEC course. This level of achievement in any unit is a major success, but to achieve it across all subject areas is remarkable."
"A lot of hard work goes into ensuring that self-motivated apprentices can achieve great things if they put their mind to it," says John Markowycz, Curriculum Team Leader for Engineering Employer Programmes at Kirklees College. "These up and coming engineers are going to secure the future success of this country and we are proud to have an opportunity to be a part of that success."
At a time when Reliance is seeking to recruit a new intake of apprentices, Megan is uncompromising in her advice to any potential new candidates:  "I would encourage anyone with an interest in science and technology to consider an apprenticeship in engineering. Achieving my academic potential at Kirklees College, combined with the hands-on experience I enjoy back at Reliance, means I can benefit from two spheres of work that are often quite detached."
Thirteen apprentices currently work with Reliance Precision at their EAL approved on-site training centre in Huddersfield. Reliance's successful apprentice scheme, founded in the 1960s, provides high quality training in a facility with dedicated staff, machinery and equipment. Reliance aims to train apprentices in an environment that nurtures personal as well as technical skills. The collaboration between the company and Kirklees College complements and enriches the overall learning experience and apprentices have an opportunity to excel on a practical as well as academic level.
Find out more about our Apprenticeship Scheme