Reliance Apprentice Receives Award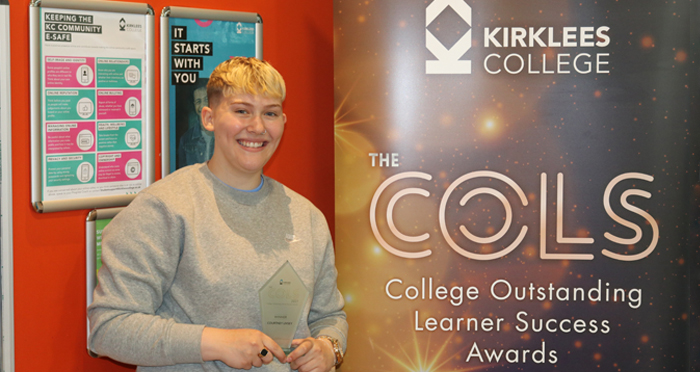 Reliance Precision Limited ('Reliance') apprentice Courtney Livsey has received a College Outstanding Learner Success Award from Kirklees College.
Courtney, in the second year of her Engineering Apprenticeship at Reliance, is currently working in Life Science Assembly as part of her year experiencing different departments across manufacturing and the wider company. She also attends Kirklees College one day a week and is presently studying for her EAL Level 3 Diploma in Advanced Manufacturing Engineering.
Each year Kirklees College recognises and celebrates the hard work, effort and achievements of their students in a series of awards. The pinnacle of these awards is the College Outstanding Learner Success (COLS). The annual COLS awards originated from the Thomas Armytage's Technical School Endowment of 1879 with students acknowledged for their academic performance, contribution to college life and personal qualities.
Unbeknown to Courtney she was nominated for the award by her tutor for being a highly motivated, determined apprentice who had demonstrated an exceptional level of resilience over the past year. Acknowledged as a reflective individual who resolutely strives towards developing her personal and professional skill set, Courtney was complimented on continuously excelling in her mandatory qualifications. Regularly receiving excellent feedback from her college tutors and workplace supervisors, all recognised she works very hard and is highly diligent in regard to completing her work to a consistently high standard.
Courtney discovered her award win after receiving an email from the College. She explains "I was completely taken aback when I read the email. I had absolutely no idea I had been nominated! After the news had sunk in, I realised what a big achievement this was for me, particularly on the back of what has been a difficult year."
Rob Farrell, Reliance's Training School Team Leader, comments "We are all extremely proud of Courtney and her achievements in winning this award. She never fails to impress. Considering her limited time and experience within Reliance, I've been incredibly impressed with the work she's produced, particularly in terms of the content and her understanding. She thoroughly deserves this award."
Photo credit: Kirklees College