Reliance Announces 2021 Apprenticeship Awards Winners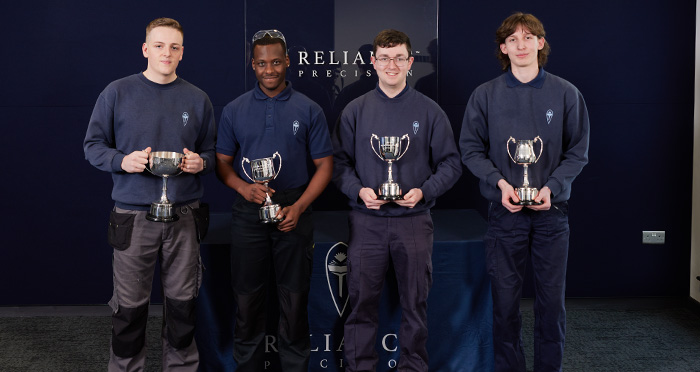 Reliance Precision Limited ('Reliance') is delighted to announce the winners of its 2021 Apprenticeship Awards. The Annual Awards are a long-standing tradition at Reliance, introduced to celebrate the value apprentices bring to the organisation:
Year 1 – Joshua McDowell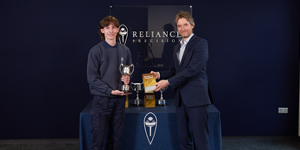 The first year award is always a special one as the recipient is nominated by their first year apprentice colleagues. Joshua was unanimously voted for by his peer group, with Rob Farrell, Reliance's Training School Team Leader, in full agreement.
Year 2 – Rory White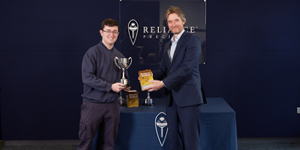 During a furlough period last year Rory independently signed himself up to undertake his Maths A Level. Then, when he returned, he assisted in the Life Sciences Assembly department to help Reliance achieve a number of challenging production schedules. Rory has since taken on a very demanding workload at Kirklees College as part of his apprenticeship development into a technical support role.
Year 3 – Charles Mukoyi

Charles was chosen for his very kind, willing and helpful attitude. He voluntarily put himself forward to help ensure an important milestone was hit for a customer delivery, working additional hours without being asked, and going above and beyond to contribute.

Year 4 – Joe Newsholm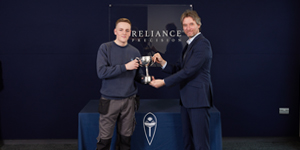 e
In the final year of his apprenticeship, Joe is part of a very strong year group. Throughout his apprenticeship journey Joe has constantly impressed the Reliance team. He pushes himself hard at college to achieve and has performed consistently in a demanding production environment.
The winners were presented with their awards yesterday by Helen Selka, Director of RRG (Reliance's Holding Company), Tom Worsley, Technical Director, and Rob Farrell. Specifically timed to coincide with National Apprenticeship Week (7 – 13 February 2022), Reliance is keen to encourage individuals to reach their career goals by building their skills and knowledge through an apprenticeship. Tom Worsley explains "Reliance has always recognised the contribution individuals within its highly skilled workforce make, and we remain committed to the training and development of new apprentice engineers. The Apprenticeship Awards reflect and celebrate the commitment, tenacity, and brilliance of the winners. It is with great pride that we see these young people grow and develop into the high-functioning technical engineering experts we rely upon, who will become the future of our business."
Helen Selka comments "We see our Apprenticeship Scheme as integral to the business.  We feel proud and privileged to train and work alongside so many talented individuals. They contribute to our quality culture and help to drive healthy development and innovation in an increasingly competitive global marketplace."
Applications are open for Reliance's 2022 Engineering Apprenticeship Scheme. For further details or to download an application form please visit www.reliance.co.uk/apprenticeship-scheme/. Candidates have until 31 March 2022 to submit their application.