Reliance Announce Apprentice of the Year Award Winners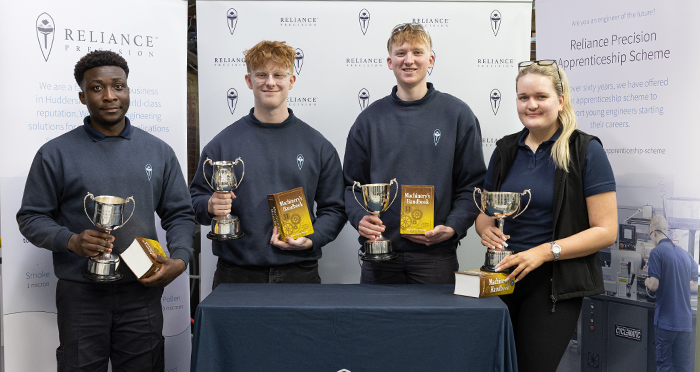 Reliance Precision Limited ('Reliance') is delighted to announce the winners of its 2022 Apprentice of the Year Awards: Year 1 – Warwick Connolly; Year 2 – Archie Barraclough; Year 3 – Daniel Lewis; and Year 4 – Madison Taylor.
The annual awards are a long-standing tradition at Reliance, introduced to celebrate the value apprentices bring to the organisation. The winners received their awards at a formal presentation held in the Apprentice Training Facility. Reliance's Managing Director, Steve Woollven and Training School Team Leader, Rob Farrell, presented each with a trophy and a Machinery Engineering Handbook.
Warwick Connolly was voted as First Year Apprentice of the Year by his peers, a choice Rob Farrell wholly concurs with. Warwick is a high performing apprentice who is kind, helpful and supports other members of the team on and off site.
Archie Barraclough received consistently positive feedback from all the team leaders whose departments he worked in during his second-year rotation. Currently specialising in CNC milling, Archie is building his knowledge and skills to prepare for End Point Assessment in 2024.
Daniel Lewis is specialising in CNC turning, working in one of the busiest departments in the business. He is credited with having a great attitude and continuously works hard to progress his skill levels. He has also willingly undertaken a significant amount of overtime over the year to help the department meet their production schedules. He is on track to complete his Level 3 Apprenticeship later this year.
Madison Taylor has recently completed her CNC milling Apprenticeship, and throughout her time at Reliance has always submitted work early and to a consistently high standard. Her attendance and punctuality at Kirklees College Engineering Centre is excellent. She is on course to receive a distinction in the final year of her HNC in Engineering.
The annual awards are timed to coincide with National Apprenticeship Week, which takes place in early February (6 – 12 February in 2023). The theme for this year is 'Skills for Life', reflecting on how an apprenticeship can help individuals to develop the skills and knowledge required for a rewarding career, and businesses to develop a talented workforce that is equipped with future-ready skills.
Rob comments: "All the winners have demonstrated a willingness to learn at a high standard, and a fantastic attitude towards their work. Our apprenticeship scheme continues to supply the highly skilled technical engineers required to drive the development and innovation of our future business."
Applications are currently open for Reliance's 2023 apprentice intake. For further details, or to download an application form, please visit www.reliance.co.uk/apprenticeship-scheme. Candidates have until 17 March 2023 to submit their application.
Image: L-R Daniel, Warwick, Archie and Madison