Reliance and Brooks Partner to Deliver Innovative Laboratory Automation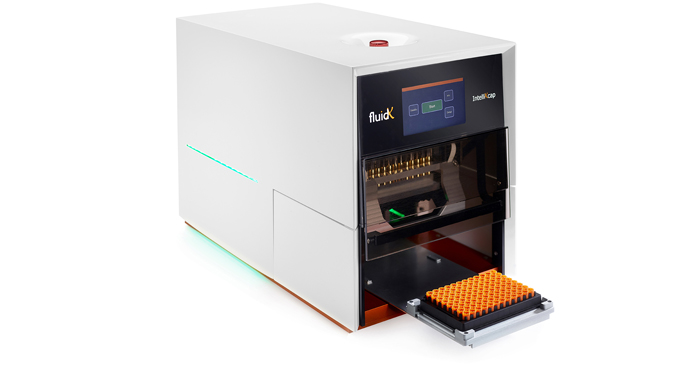 Reliance Precision Limited is delighted to announce its partnership with Brooks Life Science Systems (Brooks), the leading worldwide provider of innovative and comprehensive sample lifecycle management solutions for the life sciences industry. This new relationship has resulted in the successful production, launch and installation of the FluidX™ IntelliXcap™ automated capper/decapper system. The new system is currently being used for automated biobanking and cell processing applications.
Reliance partnered with Brooks to contribute design, manufacturing and assembly expertise which helped to deliver the FluidX™ IntelliXcap™, a next generation automated, universal capper/decapper. The resulting 96-format system is able to cap and decap a complete rack of tubes in just 20 seconds and incorporates a proprietary self-release cartridge. The unique interchangeable cartridge allows tube type switching in less than 2 minutes, providing the flexibility to work with different sample tube types or brands on one system.
Brooks approached Reliance in 2016 with an initial concept design for the FluidX™ IntelliXcap™. Reliance contributed design-for-manufacture and industrial production engineering experience, developing and optimising the design to make manufacturing and assembly of the product more streamlined and cost-efficient. The final version of the FluidX™ IntelliXcap™ system was delivered on time by Reliance and was launched in 2017 at the Society for Laboratory Automation and Screening (SLAS) meeting, the world's premier laboratory automation show. The system was very well received there and 12 units have since been installed at a top ten pharmaceutical company, where it is being used to simplify their workflow and significantly lower operational and quality control costs in biobanking applications.
Richard Laight, Technical Director at Brooks Life Science Systems explains: "Reliance demonstrated that they had both the technical ability and an understanding of how to manage our design aspirations, Our technical challenges were met with positive contributions and with a robust understanding of delivering both quality and value. I sincerely believe that is the start of a great relationship."
Andrew Wright, Reliance's Managing Director comments: "The project with Brooks is our first major collaboration with a laboratory automation firm and we are delighted that our contribution to the design, manufacturing and assembly has resulted in a commercially successful new product. Brooks' continuing partnership on this programme shows that Reliance can consistently provide industrial production engineering expertise for delivering unique laboratory processing automation which a major pharmaceutical firm is already adopting to improve their scientists' safety and productivity."